THE SAGE DIFFERENCE
---
UNPARALLELED SERVICE
When you choose SAGE, you get more than great food — you become part of an extensive network of culinary talent.

Our Chefs trained at the top culinary schools in North America, including The Culinary Institute of America (CIA), Johnson & Wales University, Le Cordon Bleu, and New England Culinary Institute. Many of our Team Members have extensive experience in restaurants, hotels, and educational settings. They all have one thing in common: a deep-seated desire to provide exceptional service to our clients.


SUSTAINED, ORGANIC GROWTH
SAGE grows one client at a time. Our success at each venue makes this possible, generating buzz and positive references. SAGE expands by word of mouth. Share the excitement and help us grow!


PLENTY OF OPPORTUNITIES
Our steady, sustained growth provides wonderful career opportunities for Team Members. We're continually adding new positions across North America. We prefer to promote from within. Nearly half of open management positions are filled by current SAGE Team Members. Our culture prizes the training and cultivation of in-house talent.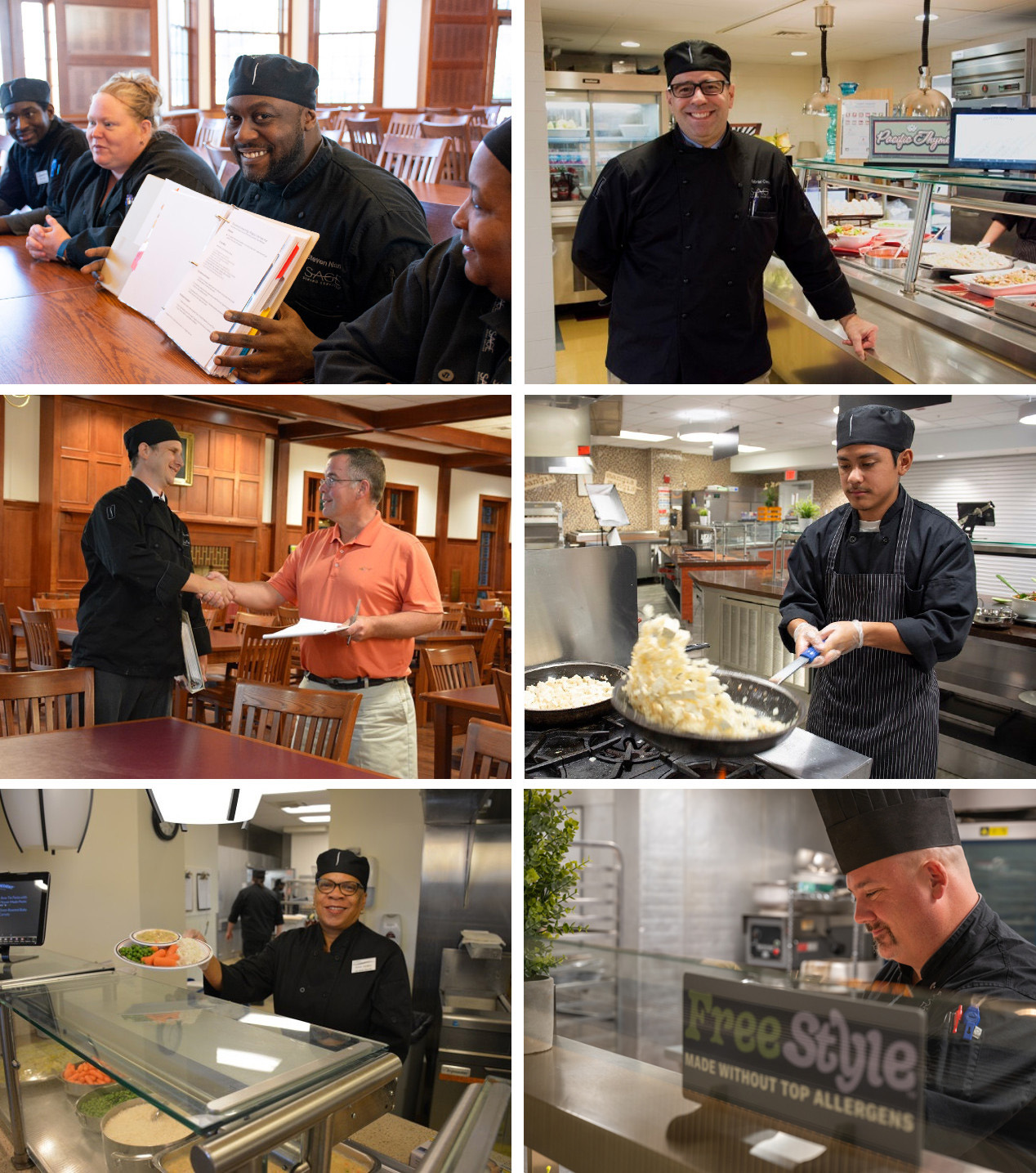 WE DELIVER UNPARALLELED LEVELS OF SUPPORT
---
District Managers focus quality time on the clients they serve.

SAGE's District Managers oversee no more than 10 accounts. They visit each account at least twice a month to spend quality time with the community. Most of our District Managers are trained professional chefs with years of culinary training. You'll see them don a chef coat and work in the kitchen alongside the rest of the team.

When you need additional resources for your community, the Culinary Support Team is prepared to step up to the occasion. This group of specially trained mobile chefs and supervisors are prepared to work at any SAGE location for extended periods of time.
MEET THE REST OF THE TEAM
---
Our Home Office — SAGE House — is located just north of Baltimore. We provide behind-the-scenes support for our culinary teams across North America. Our dedicated professionals include Registered Dietitians, Accounting Associates, Software Engineers, Human Resource Generalists, Graphic Designers, Purchasing Administrators, Recruiters, Staff Attorneys, and Event Planners.

We also have Dietitians, Purchasing Representatives, Sales Account Executives, and Regional Managers located throughout North America, ready to respond to any client need.

This extraordinary team provides the innovative, cost-effective resources that serve as the foundation for an exceptional dining experience.
WITH SAGE, IT'S MORE THAN JUST A JOB —
IT'S A CAREER
---
We firmly believe that a team of great people in the right environment can do anything. We hire based on current skills and long-term potential. Most entry-level positions require nothing more than flexibility, reliability, a strong work ethic, a positive attitude, and a willingness to learn.


WE EXPECT OUR CHEFS TO CREATE UNIQUE MENUS AND COOK FROM SCRATCH
Since all menu items are prepared from scratch using tested recipes, SAGE seeks individuals who enjoy following recipes to the letter, ensuring that meals taste amazing and look beautiful. SAGE Team Members pride themselves on incredible customer service.

Our team enjoys a fun, challenging, ethical work environment, with genuine opportunities for personal and professional growth.
Please join us at these upcoming recruitment events
YOU'RE SAFE WITH US
---
The hallmark of a true food service professional is a safe kitchen.

All of our programs meet the U.S. Food and Drug Administration's Food Code and the Canadian Food Inspection Agency's Food Retail and Food Services Code. We start with HACCP, the industry standard for understanding the critical control points in food handling. We document all of our production activities, maintaining detailed records of every item we serve. Our venues receive exceptional inspection scores in every state, district, and province we serve.

Every SAGE Manager has ServSafe® or FOODSAFE™ 2 certification.

We take food safety seriously, so you have one less thing to worry about.
ONE-ON-ONE MENTORING

SAGE's experienced Managers, District Managers, and Culinary Support Team Members take the time to work with individual Team Members to show them the ropes and help them develop their skills and become more accomplished.
PRESERVICE MEETINGS
Before the start of every meal service, the team gathers to learn about the foods that will be served. Meeting topics include the menu, portion sizes, cooking methods, allergens, ingredients, and more.
TAKE 5

Take 5 embodies SAGE's commitment to continual self-improvement for every member of our team. These short training modules cover a broad array of subjects, including food safety (HACCP), allergen awareness, teamwork, and benefits. Every team takes five minutes every day to cover one short topic.
CATERING

Team Members have the opportunity to assist at catered events in nearby venues. They work with different culinary teams and learn new ways to stage formal events. Each occasion is a training experience that will add depth and variety to any portfolio of skills.
MANAGER TRAINING
WE INVEST IN PROFESSIONAL DEVELOPMENT
New Manager Training and Sophomore Seminar bring recent hires together to learn about the inner workings of SAGE. New Team Members have the opportunity to meet colleagues from across North America and spend quality time with our leadership team.

In addition, every Manager attends The SAGE Institute, our annual companywide conference where they can learn about the latest culinary trends, new marketing and technology innovations, and our company's growth.


WE LEARN FROM EACH OTHER
Every new Manager is paired with a Freshman Adviser. This senior colleague is a mentor, providing guidance and answering questions as they arise.

District Managers host meetings for their management teams each spring and fall. They discuss a variety of topics, including new local vendors, cooking techniques, budgets, and SAGE program initiatives. District Managers also meet three times annually with company leadership to discuss the progress of their accounts, SAGE programs, and upcoming initiatives.