The arrival of fall means pumpkins galore! Not only are pumpkins seasonal, but they are also an incredibly nutritious food that is low in fat and high in fiber. It can help prevent heart disease, improve immunity, promote eye health, and build strong bones.  From coffee to ravioli, pumpkins make for a tasty, but healthy season!
To cook or bake with fresh pumpkins, choose ones that are small and dark colored.  Fresh pumpkin is typically only available once a year, but you can always find canned pumpkin, which is just as nutritious.
To prepare fresh pumpkin, follow these directions: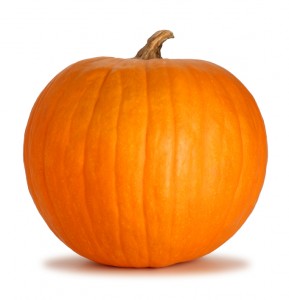 Cut it in half. Discard the stem and stringy pulp.


Place the two halves face down in a shallow dish and cover with foil.


Bake at 375° F for about 1½ hours or until tender.


Once cooled, scoop out the flesh and mash or puree.


Don't forget the seeds!  Pumpkin seeds are high in protein and make a delicious snack.
Rinse and dry the seeds. Mix with melted butter or olive oil. Add salt. Spread on a sheet pan in a single layer. Roast at 300° F for about an hour, stirring occasionally, until lightly browned. Enjoy!