When these are on the menu, students get excited. After all, they are the trendy spin on the Tuesday staple.
If you can't make it to one of our venues when this favorite is featured, here's how you can make them at home for the whole family to enjoy.
Makes 6 tacos
Ingredients:
3 tablespoons vegetable oil
1 lime
2 ½ teaspoons ancho chili powder
1 small jalapeño chile
¼ ounce fresh cilantro
1-pound, 4-ounces mahi mahi or tilapia fillets
6 flour tortillas (6-inch)
1 cup of salsa
½ cup of sour cream
½ small red onion
1 ½ cups shredded cabbage
¼ cup chopped green onions
Splash of hot sauce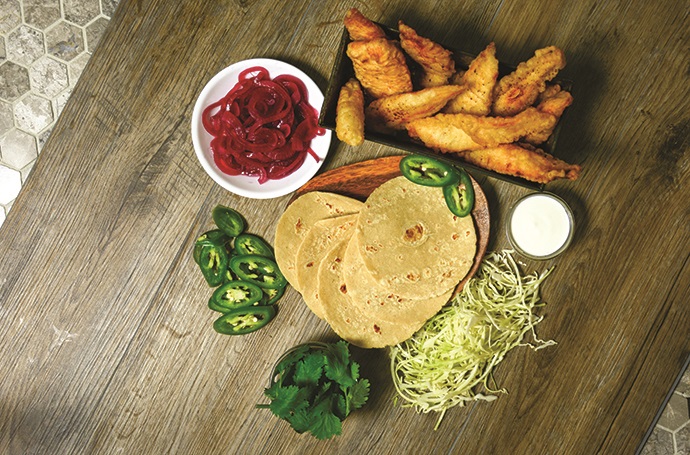 Preparation:
Step 1: Juice the lime, chop the jalapeño chile and cilantro, and slice the red onion.
Step 2: Combine the oil, lime juice, chili powder, jalapeño, and cilantro to make a marinade.
Step 3: Marinade the fish for 15 to 20 minutes.
Step 4: Remove the fish and discard marinade.
Step 5: Grill fish on a preheated grill until internal temperature reaches 145°.
Step 6: Heat tortillas, place the fish inside, and top with remaining ingredients.