Indian cuisine is known for its diverse spices and flavors, but don't let that scare you. This classic dish uses ingredients that are common in most kitchens. Check your pantry for curry powder, pick up some ginger root on your next trip to the market, and you're on your way to creating a healthy and hearty soup. Serve it with rice or warm naan for a delicious, traditional meal!
Serves 6
Ingredients:
8 ounces boneless, skinless chicken breast
½ teaspoon salt
½ teaspoon ground black pepper
1 teaspoon vegetable oil, divided
1 small onion
¼ ounce fresh peeled garlic cloves
1 celery stalk
1 large carrot
2 teaspoons unsweetened lemon juice
6 cups chicken broth
1 can garbanzo beans, drained
1 tablespoon tomato paste
¼ ounce ginger root
1 teaspoon curry powder
1 dried bay leaf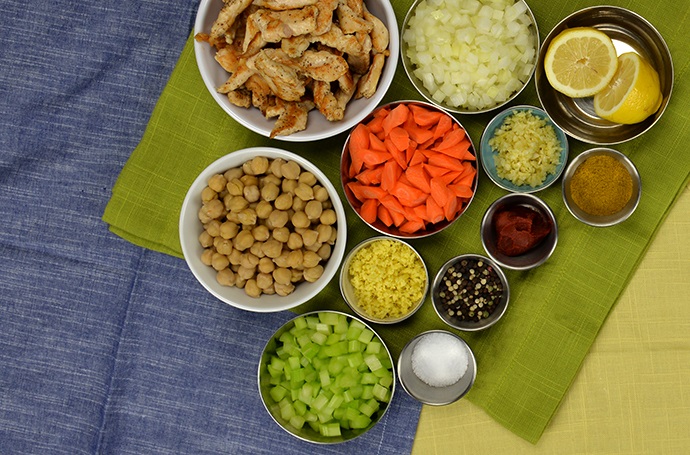 Preparation:
Step 1: Dice the onion, chop the celery and carrot, mince the garlic, and slice the ginger root.
Step 2: Slice the chicken breast in strips and season with salt and pepper.
Step 3: Heat half of the oil in a stock pot and brown the chicken. Remove the chicken from the pan.
Step 4: Add the remaining oil to the pot. Add onions and sauté until tender. Add the garlic and cook for 1 minute. Add the celery and carrots and cook for 3 minutes.
Step 5: Deglaze with lemon juice and cook for 1 minute.
Step 6: Add remaining ingredients and bring to a simmer. Return the chicken to the pot and simmer for 30 minutes. Remove bay leaf before serving.