Does your athlete want to add an extra edge to their game? Fueling properly is a strategy athletes can use to optimize their performance. Leading professional organizations, including the Academy of Nutrition and Dietetics, recognize that adequate nutrition can maximize gains in speed, strength, and agility. It can also shorten the recovery period, provide nutrients that support overall health, and reduce the risk of injury and illness.
SAGE recognizes athletes have special nutritional needs to perform their best. Performance Spotlight® is our nutrition education program designed specifically for them. With Performance Spotlight®, we offer athletes nutritious recommendations based on guidelines from the U.S. Olympic Committee, NCAA, and current sports nutrition research.
Our program highlights the three main components athletes need to properly fuel and recover: starches, protein, and fruits and vegetables.


Starches: Starches provide carbohydrates, the body's preferred fuel source. Consuming carbohydrates before, during, and after exercise provides energy, prevents low blood sugar, and supports central nervous system function, which controls body movement. If carbohydrate-based energy stores are depleted, the body turns to protein stores — delaying recovery and impairing future performance.


Protein: Protein builds and repairs muscle, regulates metabolism, and supports immune health. Consuming protein immediately after exercise also helps shorten recovery time.


Fruits and vegetables: Fruits and vegetables support body functions with micronutrients — the vitamins, minerals, and phytochemicals that promote general health, support metabolism, and serve as antioxidants.


These components are combined to build a Performance plate — a meal eaten before activity that provides fuel for athletes through easily digestible foods. Performance plates are ideally consumed three to four hours prior to activity, like at lunchtime. This allows the body time to break down food and distribute nutrients to muscles. The amount of each component should vary depending on the planned level of activity. Athletes can use this guide to build their plates: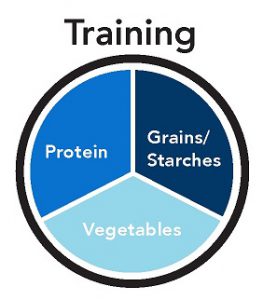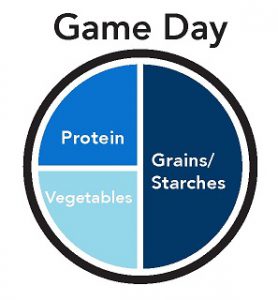 To find Performance picks, look for the runner icon (see below) on the Touch of SAGE® Mobile App, online menu, or in the dining hall. Athletes should build their plates according to our training and game day recommendations to help elevate performance.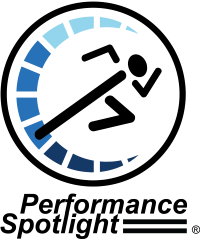 What athletes consume shortly after activity also impacts performance. A snack with carbohydrates and protein shortens recovery time. A high-quality protein food supports muscle repair and recovery after intense exercise, such as weightlifting. A blend of carbohydrates and sodium helps with rehydration in hot weather or after an endurance exercise. SAGE's house-made sports drinks, protein smoothies, and sports bars made with simple ingredients help athletes refuel.
Check out this video to learn more about Performance Spotlight®. Here's to another year of outstanding performances!