For the past two decades, Rachael Reigelman has been a leader for SAGE at Louisville Collegiate School. She's so integral to the school community that she was chosen as a chaperone to travel to Thailand this past summer on a student trip. 
Rachael has been with SAGE since 2003, all of that time as the Food Service Director at Collegiate, a junior kindergarten-12th grade, coed independent day school in Louisville, Kentucky. One of the activities the school offers is its global learning experience. With these trips, Collegiate students learn to "exercise good judgment in and toward the world," according to the school's website. 
"I was so grateful to be awarded this opportunity. Having worked at the same school for 20 years, I've watched many of these kids grow up. In the dining room, we have the opportunity to see every child, every day. We really get to know them. It was so much fun to share this experience with them," Rachael said. 
In the past, students have visited countries like Tanzania, Cuba, China, and Switzerland; the school is planning trips to Spain and France for Summer 2023. The trips are open to all upper school students in eighth through 12th grades. For the trip to Thailand, which took place from June 23 to July 5, Rachael was one of three chaperones for 21 students. 
The trip was for both cultural and historical purposes, she said, and the group traveled to many regions of the country. Though she likes Thai food a lot, Rachael said she and the students were out of their comfort zone in Thailand. "We tried foods we had no idea what they were. We were fortunate to have Pat, our tour guide, who guided us through the street food vendors. Breakfast consisted of fruit, rice, fried eggs, sausage links, noodles, and toast. All of our dinners were pre-ordered for us through Pat, including traditional foods like pad thai, kabobs, rice, vegetables, tofu, sea bass, and shrimp," she said.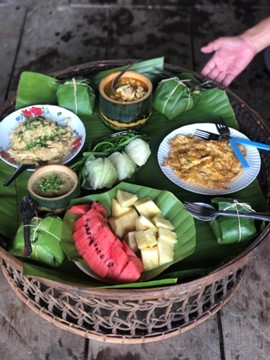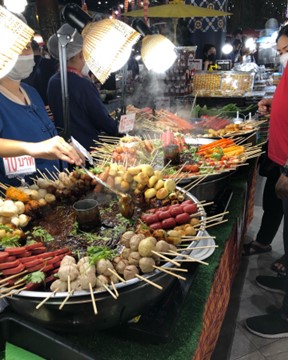 Mango and sticky rice were extremely popular among the students, and Rachael said she could see that being very well-received back at Collegiate. They also had pork and chicken curries, vegetables like bok choy and cabbage, and pineapple and watermelon at every meal. She said she planned to do a Thai-themed meal as one of the school's upcoming International Week meals. Collegiate also stays connected with the community by offering foods during National Hispanic Heritage Month and celebrating other holidays, she said.  
With the help of their tour guide, they flew in to the country's capital of Bangkok. There, they toured ICONSIAM, one of the largest shopping malls in Asia, and went on a dinner cruise on the Chao Phraya River. They also toured the Grand Palace, where the kings of Siam were based until 1925, and had the chance to see a few Buddhist temples. As they traveled around the country, they went to several markets and visited the River Kwai and the Death Railway, where around 90,000 civilians and more than 12,000 Allied prisoners of war died during its construction from 1940-1943.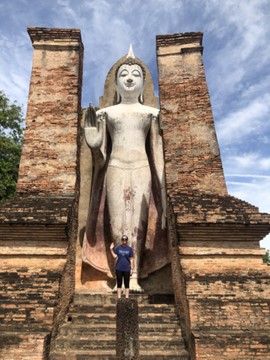 Rachael said she had two favorite activities during the trip, both in the Chiang Mai area. One was going to the village of Kued Chang, where they "learned about ecological forest restoration and then hiked up the mountain to the most wonderful farm-to-table meal you could imagine." She also enjoyed volunteering at the Baan Chang Elephant Park, which was a big hit with the students, too, as they were able to feed, bathe, and clean the elephant stalls.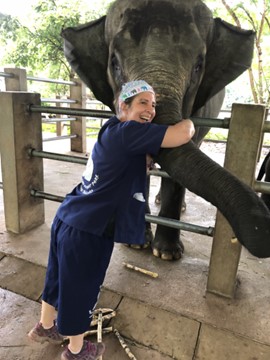 Rachael, who's lived in the Louisville area for 25 years, said she has done a lot of traveling throughout the U.S. and internationally in the past, including several trips with her husband's family to countries like the United Kingdom, France, Germany, and Switzerland. 
Just last month, Rachael was promoted to District Manager, and she now oversees eight schools for SAGE in Ohio, Tennessee, and Kentucky, including Louisville Collegiate School. She's excited about taking on new challenges and getting to know even more communities. 
"I really support SAGE's mission, and I'm proud of the work we do. I love the kids. They make the hard work worth it. ... I look forward to being able to continue to support them in my new role as District Manager."