The "big game" is just around the corner and that means a lot of food. According to the U.S. Department of Agriculture, this Sunday is the second highest day of food consumption in the United States. The biggest day? Thanksgiving!
You may not be able to control the outcome of the game, but you do have control of the snacks you serve during the festivities. Nothing says superfood like the avocados in your guacamole.
If eaten in moderation, this popular snack can also be one of the healthiest. Avocados are one of the most nutrient-dense fruits, containing nearly 20 vitamins and minerals. Plus, with the addition of tomatoes, you add lycopene, a powerful antioxidant that the American Cancer Society says can lower the risk of some cancers. Onions, cilantro and lime juice add vitamin C.
If you want to score big, try this popular SAGE recipe for Guacamole: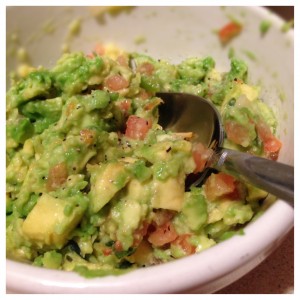 Ingredients:
3 Avocados
1 Teaspoon Salt
1/8 Teaspoon White Ground Pepper
1/2 Cup Tomato, Diced
1/3 Cup Red Onion, Diced
1 Jalapeno Pepper, minced (omit if you don't like it spicy)
1 Tablespoon Lime Juice
1 Tablespoon Chopped Fresh Cilantro
Directions:
1. In a large bowl, mash avocados until smooth. Season with half the salt and white pepper.
2. In a separate bowl, combine remaining ingredients, including remaining salt and pepper. Gently fold tomato mixture into avocados. Mix well and serve cold.
This dish is sure to be a hit! In fact avocados are so popular this time of year, the California Avocado Commission says Americans will eat approximately eight million pounds of guacamole on game day. Go avocados!