At SAGE, we believe that great food and great education can go hand-in-hand. We view every meal as an opportunity for our students to engage—with new friends, new foods, and new understandings. Educational Seasonings is a monthly program that puts those beliefs into action, bringing historical, cultural, and culinary topics to life for our students with informational guides and creative displays. It's one of the many ways SAGE delights the senses, inspires minds, and fosters community at every venue!
The theme of this May's Educational Seasonings event was "V is for Vegetarian." With fun displays and fact cards, we taught students about the history, culture, demographics, and nutritional impact of vegetarianism. Our Teams at each venue featured a wide variety of vegetarian dishes, including savory favorites like Artichoke & Chickpea Stew, Asian Brussels Sprouts Salad, Quinoa Orange Salad, House-Made Lentil Burgers, and Arugula, White Bean, & House-Roasted Red Pepper Salad. Sweet treats like Zucchini Blueberry Bread and Red Pear & Strawberry Salad finished off the meal.
The event was such a hit with our students, we thought we'd share their favorite recipe with you! Hearty barley and bulgur, flavorful spinach, and tangy sun-dried tomatoes make these stuffed mushrooms a real crowd-pleaser!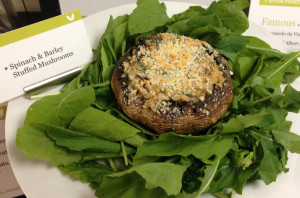 Spinach & Barley Stuffed Mushrooms
Yield: Serves 4
Ingredients:
4 portobello mushrooms
2 tablespoons olive oil
1 small yellow onion, diced
2 cloves garlic, chopped
4 cups spinach
1/4 cup sun-dried tomatoes, sliced
1/4 cup sherry
3/4 cup barley, cooked
1 egg, beaten
1/4 cup breadcrumbs
1/4 cup bulgur wheat, cooked
1/4 cup Parmesan cheese, shredded
2 tablespoons fresh parsley, chopped
1 teaspoon salt
1/2 teaspoon black pepper, ground
Preparation:
Step 1 Preheat oven to 350 degrees.
Step 2 Remove stems and gills from mushrooms. Reserve the stems, dice, and set aside.
Step 3 In a large skillet, heat olive oil over medium heat. Add onion and garlic and cook for 2 minutes, stirring frequently. Add diced mushroom stems, spinach, and sun-dried tomatoes. Cook until spinach is wilted. Add sherry and cook for 1 minute. Remove mixture from heat and spread evenly on a sheet pan. Allow to cool.
Step 4 In a large bowl, thoroughly combine all ingredients except mushroom caps.
Step 5 Lay mushroom caps on a sheet pan, round side down. Fill each cap with 1/2 cup of filling.
Step 6 Bake for 20-25 minutes, or until filling is golden brown and internal temperature has reached 165 degrees.