This traditional Israeli breakfast is healthy, delicious, and vegetarian. Break from your normal brunch rut and give this savory one-skillet dish a try. It can also be enjoyed with a side salad and a loaf of crusty bread for dinner. Trust us on this one—you won't regret it.
Serves 8
Ingredients:
¼ cup canola oil
1 medium onion, chopped
1 medium green bell pepper, diced
1 medium yellow bell pepper, diced
7 garlic cloves, minced
1/3 cup tomato paste
1 28-ounce can whole, peeled tomatoes, crushed
2 tablespoons kosher salt
1 tablespoon paprika
1 tablespoon cumin
2 teaspoons ground black pepper
1 bay leaf
1 bunch Swiss chard, chopped
8 eggs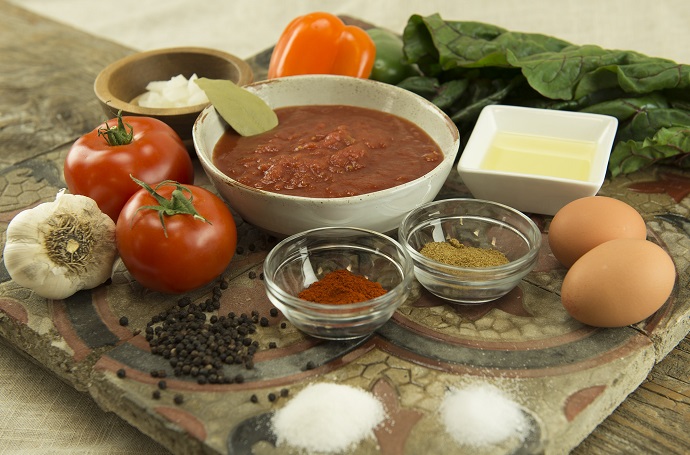 Preparation:
Step 1 Heat oil in large skillet. Add onions and sauté over medium heat about 8 minutes or until translucent.
Step 2 Add peppers and cook until tender, about 5 minutes.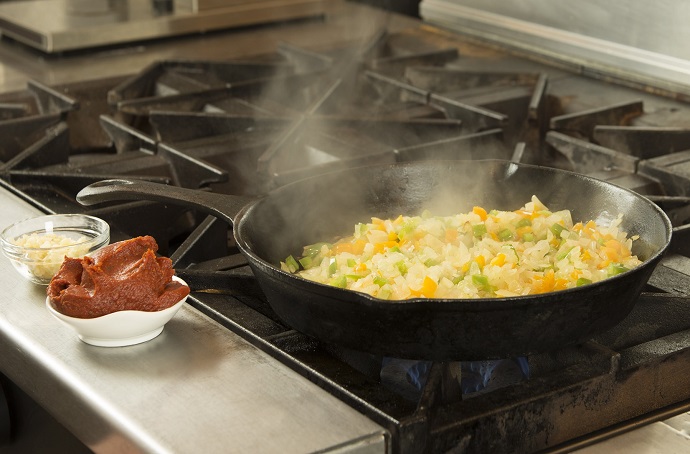 Step 3 Add garlic and tomato paste and sauté for 2 more minutes.
Step 4 Add tomatoes, salt, paprika, cumin, ground black pepper, and bay leaf to skillet and stir gently. Lower heat and simmer for 20 minutes.
Step 5 Lay Swiss chard leaves on top.
Step 6 Crack eggs on top of tomato mixture.
Step 7 Cover and simmer for approximately 10 minutes, or until Swiss chard is wilted and egg whites are no longer translucent.