Want the benefits of flavorful, garden-fresh herbs, but don't have a green thumb and tired of shelling out for pricier options at the store? Here are some tips to get you started.
Easy Herbs to Try
Basil is universally recommended as the starter herb. It not only has a fantastic scent and flavor, but also wilts visibly if under-watered—and, most importantly, bounces back quickly once you do water it. Ten other starter herbs to try are chives, cilantro, dill, mint, oregano, parsley, rosemary, sage, tarragon, and thyme. See what works in your soil, with your sunlight.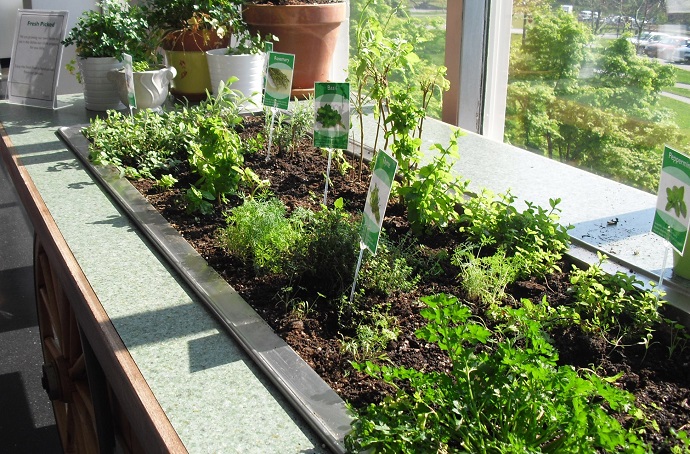 Tips for Growing
Equipment: To start, buy some potting soil, small pots with drainage holes at the bottom, and the herbs you'd like to try. A trowel and a small watering can, while not necessities, will make your life easier.
Planting: Make sure your plot is within easy distance of the kitchen (or in the kitchen itself!). Know in advance how much sun your planting location will get, and buy herbs with appropriate sunlight needs. It's easier to start with seedlings from a local nursery or store instead of seeds, which don't always germinate. And try planting in pots, not in soil, so herbs don't overtake your garden. Mint is particularly voracious.
Maintenance: You are what you eat, and so are your plants—so add nutrients to soil with compost, fertilizer, coffee grounds, and crushed eggshells. Water in small amounts daily, and provide good drainage to reduce risk of overwatering.
Trimming: Prune early and often, cutting about a third of the plant's height and being sure to leave plenty of larger bottom leaves for photosynthesis. Trim from the top of the plant down and make your cut just above a set of leaves for best regrowth. Cut off any flowers to allocate energy towards growth.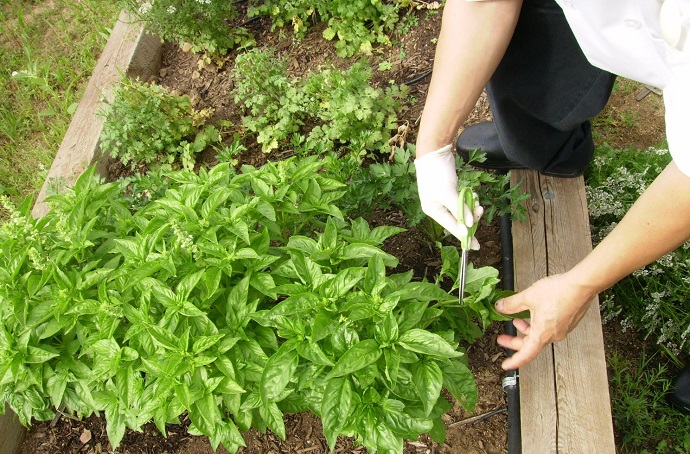 How to Use
Remember that herbs are grown to be used! You'll get the best growth if you cut and eat them often.
Fresh herbs add unexpected flavor and texture to salads. They brighten up sauces, soups, and sautés—though they're not as hearty as dried herbs, so add them toward the end of the cooking process. They're also great on pasta or pizza, muddled in cocktails or mocktails, and ground into pesto. You can dry unused herbs for storage by hanging them upside-down in well-ventilated room with low humidity, or by baking them at the lowest temperature in your oven.
Expert Advice
SAGE Cofounders Paco and Tina Rodriguez have a glorious home garden full of flowers and herbs. Paco describes how they make the most of their bumper basil crop: "Our garden grows so much basil that we have to find uses for it. Every night, we chop fresh basil into our homemade salad dressing. Tina dries some of the basil to use during the winter. And with the rest, we make pesto. We freeze it in small containers for use all year long. It tastes just as good from the freezer as it did the day we made it!"
Be sure to check out our previous posts on herbs and spices:
Chef-Recommended Spices & Herbs
How to Use Those Dust-Collectors
Herbs & Spices 101