Consumers wouldn't eat at the same restaurant everyday, even if it was their favorite. SAGE's Seasonings® program is how we keep the dining hall fresh and exciting for our students. Seasonings offers build-your-own customization and display cooking to break the monotony. At least twice a week, our Chefs surprise students with special menu items and sometimes even décor changes. Each venue makes its own calendar tailored to the community's schedule and special events. But what exactly is a Seasonings event?
Seasonings' goal is to engage the community and create excitement. Our students' favorites often include a build-your-own component—like a mashed potato or nacho bar with a range of interesting toppings, a smoothie bar with fresh local fruit, or a pho bar with house-made broth and unusual spices. Another common component is display-cooking. Several times each month, we make sure to provide a chef-manned action station in the dining room, where we'll hand-toss Caesar salads or pasta bowls, or stir fry veggies and meats as an example.
Seasonings are also a great way to show off station concepts that students at a school might not see every day, like Crossroads (food-truck-style), Mangia! Mangia! (Mediterranean), Pacific Thyme (East Asian), Paquito's® (Latin American), or Vegitas® (plant-based). It can be a fantastic learning opportunity. For example, our Team might serve a variety of empanadas from different countries—so while the students sample the food, they can learn about the different ingredients and techniques used to make them!
Our Chefs get creative with Seasonings. Some fun ones they've done in the last year include: A Day at the Carnival, Avocado Toast Bar, Carving Station, Eggs to Order, English Teatime, Grilled Cheese Station, Hot Cocoa Bar, Mac & Mash Bar, Milk & Cookie Station, Olive Oil Dipping Bar, Tossed-to-Order Caesar Salad, and Vietnamese Spring Roll Station. They're fun for everyone—not just the students, who get a chance to exercise their creativity, learn something new, and see our Chefs in action, but also for the SAGE Team, who get to get out of the kitchen, show off their chops, and see firsthand the joy they're bringing to the community.
Our Director of Menu Development, Chef Rob Coutu, gets to the heart of Seasonings:
"We often do Seasonings during meals, but I especially like doing them between meals or during an event like a hurricane or blizzard. For example, having a Hot Cocoa Bar on a snow day, a Popcorn Bar during the fall, or warm challah bread and cinnamon buns during times of stress, like during finals or inclement weather—especially at a boarding school where the kids can't go anywhere. It gets the students and faculty together in the dining room for a midday break."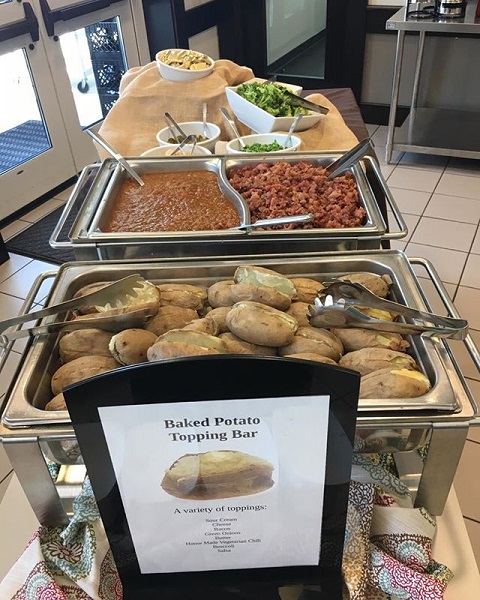 Seasonings are certainly something to look forward to, but they're also a great way to bring people together and surprise them on a dull day!
Consider bringing a little Seasonings-style spice into your life outside school with an impromptu breakfast in bed, a move night with assorted toppings for stovetop-popped corn, or an ice cream sundae bar. After all, food is about bringing people together to share a special experience!