This sweet and spicy marinade for salmon and eggplant takes your skewers to a whole new level! Serve with Grilled Mexican Street Corn and refreshing Fruit Kabobs for a simple, on-a-stick menu!
Serves 8
Ingredients:
Marinade
3 tablespoons plain yogurt, lightly whisked
1 teaspoon turmeric
1 teaspoon chili powder
3 tablespoons whole-grain mustard
3 garlic cloves, roasted and crushed
1 teaspoon fresh ginger, grated
3 tablespoons honey
1 to 2 jalapeños, seeded and finely chopped
Zest of 1 lemon
Juice of ½ a lemon
2 tablespoons dill, finely chopped
2 tablespoons chives, finely chopped
1 tablespoons ghee (clarified butter)
Skewers
1 ½ pounds fresh salmon fillets, skinned and boned
½ pound eggplant
Metal or bamboo* skewers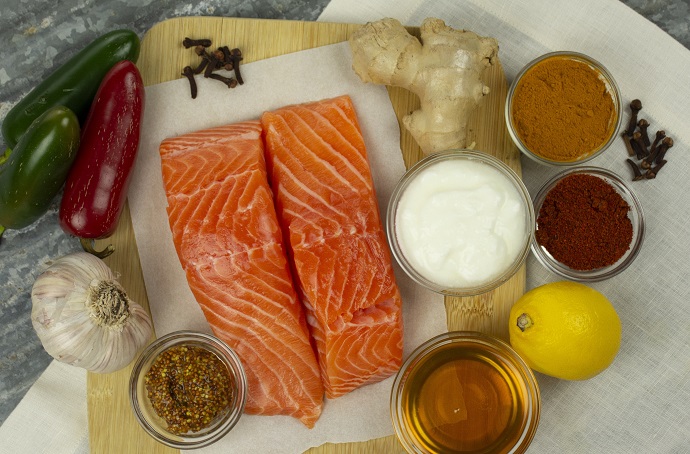 Preparation:
Step 1: Cut salmon into two-inch chunks and cut eggplant into one-inch chunks. Set aside.
Step 2: In a mixing bowl, combine all the ingredients for the marinade. Set aside 2 tablespoons of marinade in a small bowl.
Step 3: Toss the eggplant in the small bowl with the reserved marinade.
Step 4: Toss the salmon in the bowl with the remaining marinade and coat evenly.
Step 5: Marinate salmon for 30 minutes at room temperature.
Step 6: Prepare a grill.
Step 7: Thread skewers through alternating salmon and eggplant pieces, allowing a bit of space between each.
Step 8: Place skewers on hot grill and cook for 2 minutes. Turn and repeat for each side until cooked to desired wellness.
*If using bamboo skewers, allow them to soak in water for one hour before using to prevent burning on the grill.