There's plenty of fresh corn to be found in September, and this zesty combo of fresh and creamy Mexican flavors is the perfect side to Skewered Salmon and Eggplant for your next gathering.
Serves 8
Ingredients:
8 ears of fresh corn, husked
2 tablespoons vegetable oil
1/8 teaspoon kosher salt
1/8 ground black pepper
1 cup crumbled Cotija cheese, divided
½ cup plain yogurt
½ cup sour cream
½ cup minced cilantro leaves, plus more for serving
2 teaspoons fresh lime zest and juice
1 teaspoon smoked paprika
Lime wedges, for serving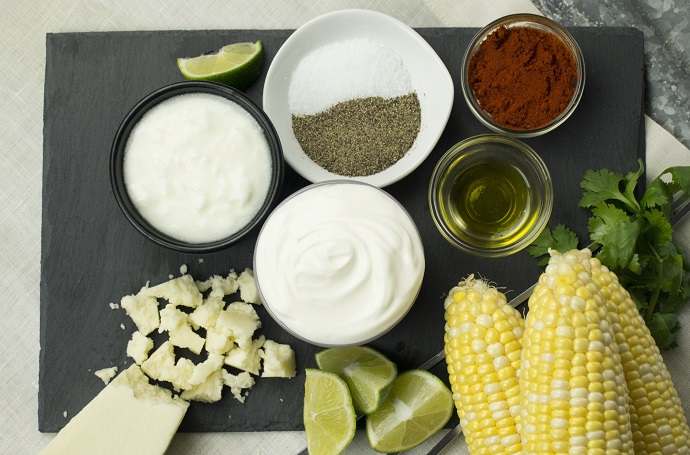 Preparation:
Step 1: Prepare a grill. On a sheet pan, rub the corn with oil, then season with salt and pepper.
Step 2: In a small bowl, stir together ⅔ cup of the Cotija cheese with yogurt, sour cream, cilantro, lime zest, lime juice, and smoked paprika.
Step 3: Put each piece of corn on a skewer and position on the hottest part of the grill. Cook, turning as needed, until fully cooked and slightly charred, approximately 8 to 10 minutes.
Step 4: Remove the corn from the grill and immediately brush each cob liberally with the cheese mixture and transfer to a platter.
Step 5: Garnish each ear of corn with a sprinkle of the remaining ⅓ cup of cheese and more cilantro. Serve with lime wedges.