SAGE has created Performance Spotlight™ to address athletic nutrition at school. Crafted by our Registered Dietitians, our program is based on recommendations by the United States Olympic Committee, NCAA, and other sports nutrition associations. There are three tenets of our program are education, meal guidance, and recipes.
The education component centers on the what, when, and why so that the students can really understand what this nutrition will do for their bodies and performance.
Meal guidance addresses the question "What do we eat, and when?" On campus, we teach students the appropriate items to select using our Performance Picks, which are chosen from the school's menu by our Dietitians because these foods have what it takes to keep athletes fueled properly. They're indicated with the "runner" icon.
We give students the guidelines for building a plate for either training or game days. Our general nutritional guidance program, Spotlight, helps them eat healthy off-season, or on non-training, non-game days.
Athletic directors and coaches can pick from several choices in our Catering Guide, called Fueling your Team with appropriate options for team meals, as well as on-the-go snacks and small meals for before, during, and after games.
As we built our program, we realized that athletes were relying on sports bars and drinks for fuel immediately before, during, and after games. These are convenient, portable, and easy on the stomach—plus, they're backed by the science!—but we weren't comfortable with all of the unnecessary processed ingredients.
So we filled the niche by creating our own clean label recipes for house-made sports drinks and bars. The drinks have the simple carbohydrates, electrolytes, and water our athletes need to keep them going during intense or extended activity, and the bars provide the carbohydrates and protein they need to top off their energy stores and begin recovery. Plus, they taste great!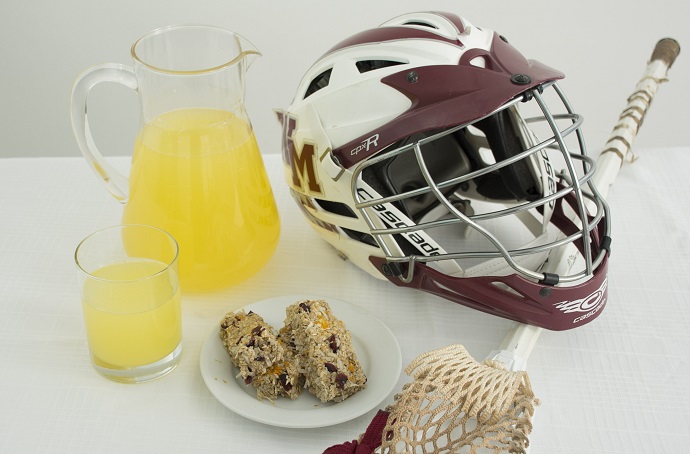 Read more information on the science behind nutrition for performance including what to eat and when here.