Does your athlete want to add an extra edge to their game? Properly fueling is one strategy athletes can use to optimize their performance. Research shows adequate nutrition can maximize gains in speed, strength, and agility; shorten the recovery period; provide nutrients that support health; and reduce the risk of injury and illness.
We recognize that athletes have special nutritional needs to help them perform their best. Performance Spotlight™ is our nutrition education program designed specifically for them. With Performance Spotlight™, SAGE brings recommendations from the Olympic Committee and the NCAA into the dining hall for all athletes.
Our program highlights the three main components that athletes need to properly fuel and recover: starches, protein, and fruits and vegetables.


Starches: provide carbohydrates, the body's preferred fuel. Consuming carbohydrates before and during exercise provides energy, prevents low blood sugar, and contributes to central nervous system function. Completely depleting carbohydrate-based energy stores causes the body to break down protein for energy — delaying recovery and hurting future performance.

Protein: helps to build and repair muscle, regulate metabolism, and support immune health. Consuming protein immediately after exercise also helps shorten the recovery period.

Fruits and Vegetables: support the whole body with micronutrients — the vitamins, minerals, and phytochemicals that promote general health, contribute to metabolism, and serve as antioxidants.

These components can be combined to build a Performance Plate — a preactivity meal that provides the fuel athletes need through foods that are easy to digest. We recommend building Performance Plates at lunchtime, or three to four hours prior to activity, to give food time to break down and distribute nutrients to muscles. Athletes can use this guide to help build plates according to their level of activity.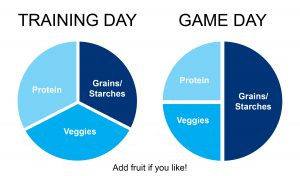 Find Performance picks by locating the runner icon (see above) on the Touch of SAGE™ app or online menu ahead of time, or on the tablets in the dining hall. To help elevate performance, athletes should build their plates every day according to our training and game day recommendations.
Take a look at this video below to learn more about Performance Spotlight™.  And here's to another year of outstanding performances!