As we welcome the new year, SAGE Executive Chef Rob Coutu and our Registered Dietitians share food trends you might see popping up on menus in 2021.
Bread: The COVID-19 pandemic brought out a bunch of bakers! While people have been learning how to keep sourdough starters alive and what "levain" means, they're developing an appreciation for artisan breads. Look for bakeries making loaves from local and organic grains, heritage wheats, and ancient grains.
Hyper-regional cooking: Food descriptions are including specific regions instead of larger areas, such as Southern American, Indian, Chinese, or Mexican cuisine. Look for Southern American foods to be identified as Appalachian, Lowland, or Creole. Mexican recipes might reference roots in Oaxaca, Veracruz, or Yucatán. Honoring a specific region helps us all explore and learn about new places without visiting them, which is a bonus now when traveling is harder.
First-generation cooking: Eurocentric cuisine has been the standard in culinary schools for so long, but this is changing as first-generation Americans and immigrants are honoring traditions from their cultures and promoting their native foods and cooking techniques. These chefs are introducing distinct ingredients and a new narrative for the culinary world.
Plant-based cuisine
: This one isn't necessarily new, but while the focus used to be on alternative proteins and cell-based meats, look for vegetables, grains, and legumes to be center stage this coming year in a growing number of vegetarian, vegan, and plant-forward fast-casual concepts.
Watch our recipe video for this Baby Bella Mushroom Burger.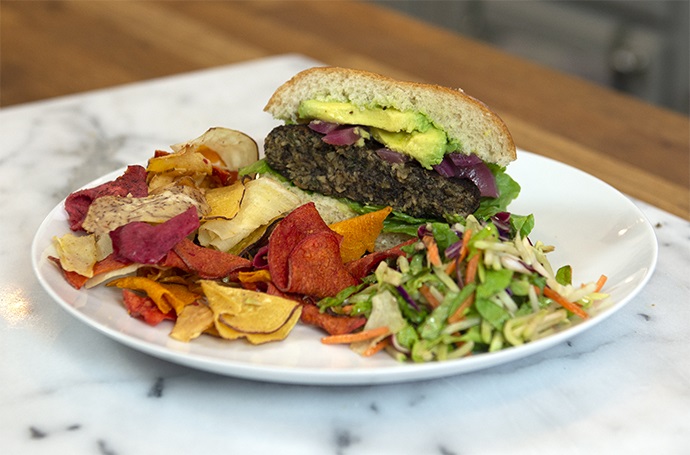 Technology changes: Food service operations have made major technological improvements to minimize close contact and protect guests from COVID-19. Online ordering has taken off in restaurants and is becoming widely available in K-12 schools and colleges and universities. There will be more packaging innovations to protect food and maintain exceptional quality during transport.
Curries: Look for Indian, Thai, and Japanese curries to make their way onto menus in 2021, which might become the year of curries! This dish is adaptable to different eating patterns and ingredients, making it a highly versatile crowd-pleaser.
Produce: A few common produce items are showing up in new ways. Cranberries are breaking out of their holiday role and appearing in glazes, dressings, smoothies, and desserts. Sweet potatoes have become common as fries, but they're expanding to pancakes, fritters, and noodles. Celery is moving from a salad or soup ingredient to standing on its own. Expect to see celery and celery root roasted, charred, or cured as a meal accompaniment.
Look for some of these exciting trends to make their way onto your menus in the coming year!