Bowls shouldn't just be reserved for cereal and oatmeal; you can pack a tasty, complete breakfast into those things!
Try this complete breakfast, which should keep you going all morning long. You can make most of this ahead and assemble the bowls the morning of. Swap out or add ingredients as you like–this can easily be made vegetarian or vegan!
Yields 4 servings
Ingredients:
2 cups water or broth
1 cup quinoa
2 cups chopped spinach
1 large sweet potato
½ medium butternut squash
4 teaspoons olive oil
4 teaspoons rosemary (or spice of choice)
Salt and pepper to taste
4 eggs, fried (optional)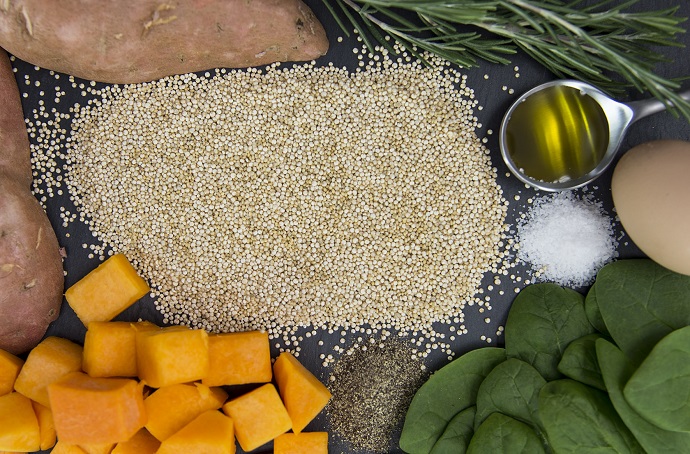 Preparation:
Cook the quinoa:
Step 1 Combine 1 cup quinoa with 2 cups water or broth in medium saucepan. Bring to a boil over high heat.
Step 2 Reduce heat to low, cover, and simmer until quinoa is tender and most liquid has been absorbed, 15 to 20 minutes.
Step 3 Fluff with fork and set aside.

Roast the squash and sweet potatoes:
Step 4 Preheat the oven to 425°F.
Step 5 Chop sweet potato into ½-inch cubes. Remove seeds and skin from butternut squash and cut into ½-inch cubes.
Step 6 Toss with olive oil, rosemary, salt, and pepper, and distribute on a roasting pan.
Step 7 Bake for 25 minutes, tossing two or three times to promote even cooking.
Assemble the bowls:
Step 8 Divide quinoa into four bowls. Portions are generous.
Step 9 Layer with sautéed spinach and roasted vegetables.
Step 10 Top with fried egg, if desired.