We are proud to partner with family-owned businesses like ourselves and continually seek sustainable local suppliers that practice fair trade and adhere to our rigorous standards. Today we're introducing one of our mid-Atlantic vendors, Saval Foodservice, through an interview with CEO Paul Saval.
Founded in 1932, Saval Foodservice is the largest family-owned independent broadline food service distributor in the Washington, D.C., Maryland, and Virginia areas. Today, Saval Foodservice serves clients from Philadelphia to Roanoke. For Saval Foodservice, family is the cornerstone of their business.
What does it mean to be a family business after all these years?
We are an 88-year-old family business now in its fourth generation. To accomplish our longevity, we have focused on running the business as a business, not as a family, yet instilling that sense of family in relating to our people and our customers, who are very much family businesses like ours. Most importantly, we have been able to attract very talented people who work hard and have a big role in driving the successful growth of our company.
How long has Saval Foodservice partnered with SAGE?
I think it has been around seven years. SAGE and Saval are both family-owned local Baltimore area companies with a rich history, so I believe we have a mutual interest in treating each other as partners in the supply chain.
What do you do as a supplier?
Saval procures, warehouses, and transports a broadline of food and non-foods to its customers. Customers are able to get all of their product needs from over 250 manufacturers deliver to them next day on one truck.
What is your role in our food system?
We are the "middleman" between manufacturers/processors and the food service provider (restaurant/caterer/contract manager).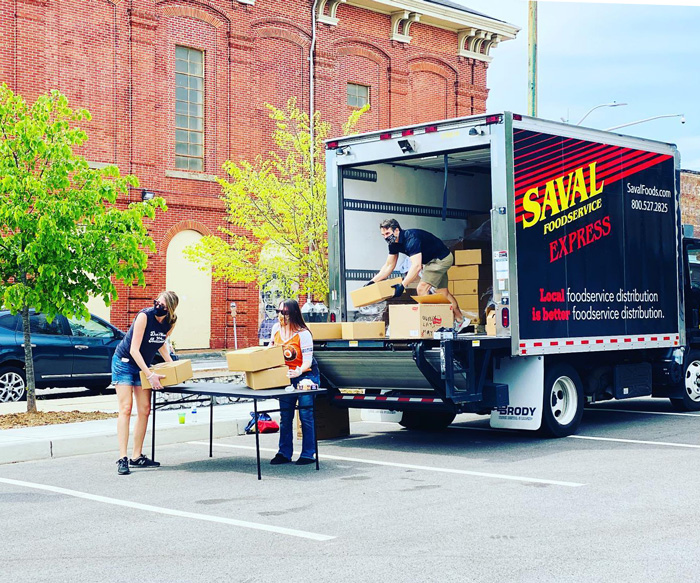 How do you vet farmers and suppliers for food safety and good business practices?
We have standard supplier requirements and policies that must be adhered to. We have longstanding relationships with the vast majority of our suppliers.
In 2020, Saval Foodservice was a recipient of the Healthiest Maryland Businesses (HMB) Wellness At Work Awards, which "recognizes Maryland businesses that are committed to improving employee health and well-being." We asked Paul about their road to winning the HMB award.
What are some of the changes you implemented to win a HMB Wellness At Work Award?
We have a rich culture of wellness. We provide subsidized gym memberships to all employees, have annual biometric screening for employees and their spouses and, when things were normal, had quarterly health-related educational or activity requirements built into our wellness program. Over the years, we have had onsite educational programs for weight control, smoking cessation, and CPR. Pre-COVID, we had regular stretching onsite at Saval Foodservice and bring in a trainer to lead the exercising once a week.
How has the COVID-19 pandemic impacted your business and what are some of the changes you've instituted to conduct business safely?
The economic fallout caused by the pandemic devastated our business. Losing 65% of our business the week of March 16th caused us to rethink our business and create new ways of selling. It also had us put in processes and procedures to keep people safe: office and common area sanitizing, temperature checks for all persons entering the facility, moratorium on meetings, visitors, and outside drivers; masks, plexiglass dividers, temperature check stations, and entrance checklists.
What does community mean to you? Please share some of the ways Saval Foodservice has made a difference in the community.
My family and our company have a history of giving back to the community. We have a 25-year history of giving and involvement with the Children's Cancer Foundation; board participation on the Center for Poverty Solutions; Baltimore County Planning Commission; Baltimore County Ethics Commission; Northwest Hospital; LifeBridge; Playworks; Meals on Wheels; Backpack for the Homeless; Big Brother Big Sisters of America; Baltimore Jewish Council; Elijah Cummings Youth Program; Owings Mills Youth Wrestling, and many customer charities that we have contributed to.
The COVID-19 pandemic has had a devastating impact on the restaurant industry and its workers. As a result, Saval partnered with other organizations to support Mid-Atlantic restaurant workers, whose livelihoods were significantly impacted by dining venue closures:
At the outset of the pandemic, we began giving away food to unemployed restaurant workers in Baltimore City, Washington, D.C., and the surrounding counties. We partnered with Johns Hopkins on food boxes for those in need, the University of Maryland Hospital system and Baltimore County to provide food logistics, and provided drivers and trucks to Meals on Wheels.