Check your dining menu in advance so you have more time to eat and catch up with friends. Access it online through your community website and through our free Touch of SAGE® app. Here's all your SAGE menu has to offer!
Choosing Your Menu View
Your menu features a restaurant-style format where menu items are organized by the following categories: Specials, Soups, Salads, Deli, Entrées, Sides and Vegetables, and Desserts. You can opt to view the menu by concept as well, which is how menu items are displayed in the dining hall.
Depending on your food service program, you can view multiple menus (e.g., lower school, on-campus café, etc.), as well as menus for different meal periods (breakfast, lunch, dinner, and/or snack). View the daily and weekly menu or choose a date to see options in the future. You'll also find a calendar featuring special events in your dining hall, such as fun create-your-own offerings, national food day celebrations, Educational Seasonings, and more.
Concepts
The logos you see on the menu represent SAGE's various concepts. Your dining program can include the same concepts every day or rotate on a regular basis. Here's a quick overview of what you can expect from each concept:


Crossroads – fun and trendy food truck-inspired fare.


Seasonings® – build-your-own selections and exciting customizable options.


The Classic Cuts Deli® – freshly baked breads, house-roasted meats, toppings for sandwiches, and accompaniments.


The Stock Exchange – flavorful house-made soups.


Improvisations® – chef-crafted and build-your-own salads, fresh toppings, and house-made dressings.


The Main Ingredient® – familiar, delicious entrées with complementary sides.


Free Style™ – delicious entrées and sides made without the 12 most common allergens.


Mangia! Mangia! – savory and hearty Mediterranean dishes.


Vegitas® – complete, nutritionally balanced vegetarian and vegan dishes.


Pacific Thyme – authentic Asian cuisine.


Paquito's® – authentic Latin American and Caribbean cuisine.


P.S. – sweet and savory baked foods, pastries, and accompaniments.


Splashes – wide variety of beverages.


Transit Fare® – grab-and-go favorites, including salads, sandwiches, sides, desserts, and more.


Ingredient and Nutrition Information
Your menu features ingredient lists, which include allergen information. To access this, simply click or tap on the menu item to pull up the ingredients list. You'll also come across a tab to view nutrition information. We passcode protect nutrition information as part of our approach to preventing eating disorders. We share the code with parents and appropriate school contacts within your community. Please contact your SAGE Manager if you have questions or need access to this information.
Allergen and Eating Pattern Filter
The allergen and eating patterns filter allows you to quickly and easily find foods that suit your dietary needs. You can filter menu items by the 12 most common allergens (peanuts, tree nuts, shellfish, milk, gluten, eggs, fish, wheat, sesame, soy, mustard, and sulfites) and by eating pattern (vegetarian, vegan, and, if available, Performance Spotlight®).
Simply select the allergen(s) you want to avoid and/or the eating pattern(s) you want to follow. Menu items that don't meet your criteria will fade out gray. In the app, the allergen and eating pattern information is automatically saved to your profile for future use.
Lightbulb and Drop of Oil Icons
You may come across lightbulb or drop of oil icons on your menu — here's what they mean:


A lightbulb icon means allergen(s) may be in the recipe, depending on the brand of ingredient used. Avoid the dish or ask your Manager to review the ingredient label.


A drop of oil icon means the menu item gets fried in shared oil. Avoid the dish or ask your Manager if your allergen is present in the shared oil.


Lightbulb and drop of oil icons, as well as allergen icons, will also appear on menu item signs at stations in your dining hall.
The SAGE Spotlight Program®
On menus online and in the Touch of SAGE® app, you'll see green dots next to menu items— these are called Spotlights and they're part of our SAGE Spotlight Program®. You can use the Spotlights to help you determine the nutrient density of a menu item when building your plate.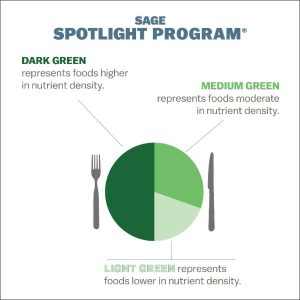 Read more about the SAGE Spotlight Program®.
Ask your SAGE Manager how to access your menu online or download the Touch of SAGE® app, available on the Apple App Store and Google Play Store!