Learn how to make this fall staple at home. You can use any apples, although our Chefs recommend tart baking apples like Braeburns or Granny Smiths. If you'd prefer, the gluten-free flour can be swapped easily for regular all-purpose flour. Grab your vanilla ice cream and enjoy!
Yields: 1 Pie
Ingredients for Crust:
2 ½ cups gluten-free all-purpose flour
1 teaspoon salt
2 sticks cold, unsalted butter, cut into small pieces
8 tablespoons ice-cold water
Crust Preparation:
Step 1 Cut half of the butter into the flour mixture with a pastry blender until it has the consistency of cornmeal.
Step 2 Cut the remaining butter into the dough and work until the butter's in pea-sized pieces.
Step 3 Sprinkle the dough with the water.
Step 4 Blend the water into the dough until it just holds together. If necessary, add 1 teaspoon to 1 tablespoon of additional water.
Step 5 Divide the dough in half and mold each half into a disk.
Step 6 Roll out one disk of dough to roughly 12 inches in diameter
Step 7 Put dough into pie pan, gently trimming off excess dough with knife.
Step 8 Place pan in refrigerator.
Note: Gluten-free pie crust will be fragile. For best results, roll out on wax paper sheets and transfer to pie plate.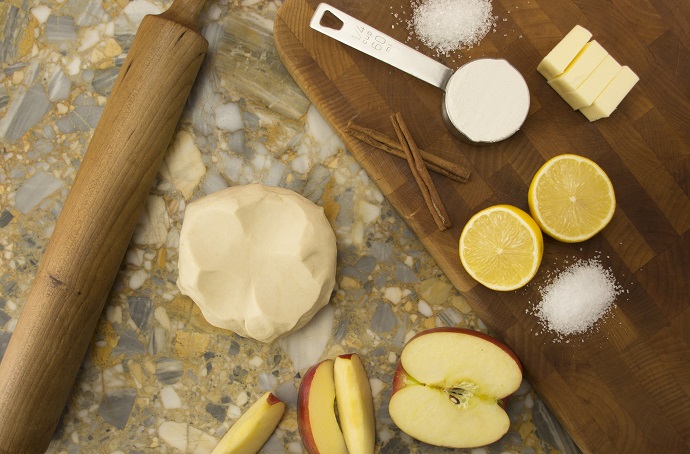 Ingredients for Filling:
3 pounds tart baking apples, peeled and cored
1 tablespoon lemon juice
3 tablespoons gluten-free all-purpose flour
½ cup granulated sugar
½ teaspoon cinnamon
¼ teaspoon salt
2 tablespoons unsalted butter, cut into small pieces
Filling Preparation:
Step 1 Preheat oven to 350°.
Step 2 Slice apples and place in bowl.
Step 3 Add lemon juice, flour, sugar, cinnamon, and salt.
Step 4 Let mixture stand 15 minutes, turning occasionally, to allow apples to soften.
Step 5 Remove prepared pie shell from refrigerator.
Step 6 Pour filling into pie shell.
Step 7 Place pieces of butter throughout pie filling.
Step 8 Roll out remaining dough to roughly 12 inches in diameter and place gently over apples.
Step 9 Seal pie by crimping edges of top and bottom dough together with fingers.
Step 10 Cut a vent into center of pie to allow steam to escape.
Step 11 Bake on a cookie sheet for 1 hour or until filling bubbles through vent.
Step 12 Remove from oven and allow to cool for 3-4 hours before serving.