At SAGE, we know balanced meals are necessary for strong academic and athletic performance. And while we've got you covered at lunchtime, eating a nourishing breakfast is the best way to prepare for a successful day ahead, making it arguably the most important meal of the day.
A morning meal not only provides your body with energy to start the day but also helps with attention, memory, and creativity. In other words, breakfast sets you up for a productive day at school.
An ideal breakfast includes carbohydrates (e.g., whole-wheat toast, oatmeal, whole-grain cereal), protein and fat (e.g., yogurt, milk, cheese, eggs), and fruit. And don't forget to hydrate! Drinking a glass of water with breakfast is a great way to replenish your body after a good night's rest.
Busy mornings can make it tough to eat breakfast before heading out the door. Stock your pantry and fridge with some easy grab-and-go items, like individual yogurt cups, hardboiled eggs, preportioned cereals, breakfast sandwiches, and hand-held fruits, such as apples, oranges, and bananas.
Check out these quick and simple breakfast recipes to fuel your day. You can prepare them ahead of time so they're ready to go when you are!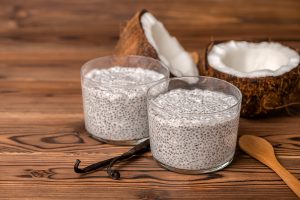 Coconut-Chia Seed Pudding
Makes 8 (4-ounce) servings
Ingredients
5 ½ tablespoons chia seeds
3 ¾ cups canned unsweetened coconut milk
¾ teaspoon pure vanilla extract


Combine the chia seeds, coconut milk, and vanilla extract. Let rest for 5 minutes.


Whisk the mixture after 5 minutes to ensure there are no lumps. Refrigerate for at least 5 hours, or overnight.


Pudding should be chilled and thickened. Enjoy!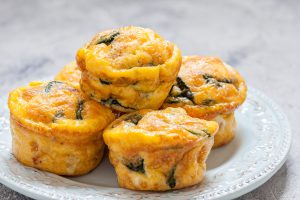 Mini Spinach and Cheese Egg Cups
Makes 8 egg cups
Ingredients
Pan spray
3 ounces baby spinach
8 large eggs
⅛ teaspoon kosher salt
⅛ black pepper
4 ounces shredded cheddar cheese


Preheat oven to 400°F. Spray muffin pan wells with pan spray.


In a medium skillet, lightly sauté the spinach until just wilted. Remove and properly cool. Squeeze to remove excess liquid as needed.


In a bowl, add eggs, salt, and pepper. Whisk to combine.


Add spinach and cheddar to each muffin pan well. Top with egg mixture.


Bake 10-12 minutes or until eggs reach proper internal temperature (165°F). Let sit for 5 minutes, then gently release from muffin pan.


Serve warm or refrigerate and enjoy later. To reheat, microwave to proper temperature (145°F).