Have you ever looked into a sparse spice cupboard and wondered how a chef would restock it? Wonder no more! We interviewed four SAGE Chefs on their go-to spices, herbs, and flavor combos. Stock up on these, and you'll always be prepared for a delicious meal.
Rob Coutu, Chef for over 30 years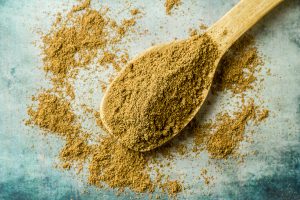 "I keep a robust spice rack, including paprika, Spanish smoked paprika, basil, oregano, thyme, Tellicherry peppercorns, white peppercorns, star anise, chipotle and ancho chile powder, cardamom, whole nutmeg, garlic and onion powder, turmeric, fennel seed, coriander, cumin, celery seeds, ground ginger, mustard seeds, bay leaves, fenugreek, whole cloves, and Korean chili pepper. Also, mace, which is a very underutilized spice!
"I like to make spice rubs and brines for roasting and grilling.
"I try to keep whole spices as much as possible and pan roast them as needed. I like to have the option of creating different flavor profiles when I'm in the mood for one.
"As for herbs, I grow a lot of basil in the summer and make pesto to keep in the freezer to use as needed. I also keep harissa paste in the freezer, so I can make soups, roasted vegetables, aïoli, whatever I want. And I have a rosemary plant in a planter and move it inside for the winter."
Avi Cohen, Chef for over 30 years
"My first go-to seasoning is kosher salt and fresh pepper from a pepper grinder. It's so important to properly season food, especially meat. A good steak needs little more than salt and pepper.
"With my Middle Eastern background, I seem to always be reaching for the cumin, coriander, cardamom, and oregano as my spices. I enjoy the bold and earthiness flavors of the Middle Eastern/Mediterranean spices that carry over to a lot of Latin cooking as well. Falafel, shawarma, and birria tacos are great examples of how these flavors are combined and used to create different types of food.
"I always have potted plants of rosemary, thyme, basil, and chives. The rosemary and thyme are great for roasting chicken or making a stock. Chives are a great way to add a light onion flavor to food and to sprinkle on top for color.
"I love caprese salad. So simple and flavorful. Fresh, vine-ripe tomatoes with fresh mozzarella and fresh basil. A drizzle of good-quality olive oil and balsamic vinegar, and a sprinkle of kosher salt and a grinding of black pepper. That's my favorite."
Steve Freas, Chef for 38 years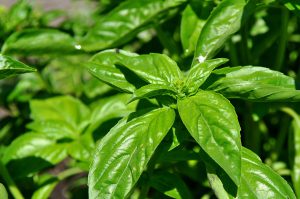 "Salt and pepper are my go-tos because underseasoned food is as bad as poorly prepared food. I like the freshness that thyme and lemon thyme bring to food, especially grains and poultry. Certain combinations are delicious, too, like blueberry and lemon in drinks, strawberry and balsamic vinegar in salads, and either pairing in desserts.
"Tomato and basil with high-quality olive oil is my quintessential summer dish. And for a garlicky barbecue sauce, lightly coat chicken with a combination of brown sugar, garlic, and kosher salt before grilling. Finally, dry white wine, shallots, and heavy cream, reduced, is one of my favorite sauces on nearly anything."
Gena Szeliga, Chef for 16 years
"I put black pepper in almost everything. I use cumin for meats, and I particularly like to toast it and add it to black beans with garlic and onions. Bay leaves are great simmered with meats, beans, or lentils, and in soups. And I like to add smoked paprika to dry rubs — it's really good on short ribs!
"Then there are the pairings I always go back to: celery seed for roasts and sauerkraut; sage with pork; and thyme in meats, gravies, and rice. And, although it's not an herb or spice, always salt!"