As SAGE's Event Planner, I thought I'd share some tips and tricks that both kids and adults will enjoy!

Say Cheese
Capture your guests' creative costumes with a DIY Photo Booth. Find a blank wall in your party space to serve as the backdrop. Grab a basket and fill it with chalkboards and chalk for your guests to make funny signs. Set up a tripod and digital camera and designate a friend to be the picture taker. At the end of the party, you'll have a camera roll of great photos that you can share digitally with all of your guests.

Spooky Snacks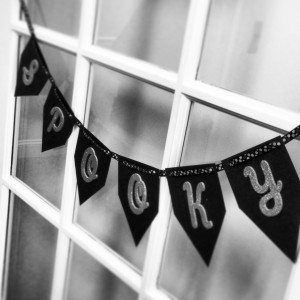 What's not to love about anything mini? Think bite-size when developing your appetizer menu and your guests of all ages will love it. Put a spooky twist on the names of your snacks and create little signs to identify the "Hot Dog Mummies" from the "Monster Munch!" Pinterest is a great resource that is chock-full of Halloween snack ideas!

As far as drinks go, consider filling plastic cauldrons with witch's brew, one kid-friendly and one for the adults. Add dry ice for the extra effect. If you want to take it a step further, carve out a pumpkin, add some ice, and fill it up with drinks for a daring display.

DIY Decor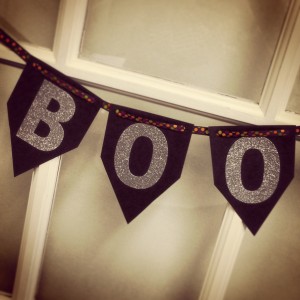 Skip the flimsy, plastic banners this year and make your own! Head to your local craft store and grab a few simple supplies:



4" x 6" card stock, your choice of color


One to two packages of extra-large alphabet sticker letters or permanent markers


One roll of thin ribbon or natural twine


One single hole puncher


Scissors


Draw a large triangle on one piece of card stock. Cut out the triangle and use this as your stencil. Choose banner phrases such as "Happy Halloween" or "Boo!" and cut out the appropriate number of triangles. With the triangle tip pointing down, create your phrase letter by letter, or with stickers. Hole punch the top two corners of each triangle, string the ribbon through, and voila!
Music
Don't forget your Halloween playlist! Create a fun selection of holiday hits, but be sure to have some other music mixed in; you don't want every song to sound like the "Monster Mash!"
Treat Bags
Leave your guests smiling with a goodie filled treat bag. Steer away from sugar overload and fill the bags with anything from Rainbow Loom bands, to cheesy whole-grain cracker snacks to pretzels. Consider printing a colorful Halloween graphic, folding it in half, and stapling it to the top of the bag for that finishing touch.
Happy planning! We wish you a safe and fun Halloween!