"Clean eating," or opting for natural and unprocessed foods in lieu of factory-packed and processed alternatives, has been a hot topic for years. At SAGE, we prefer to emphasize scratch cooking—using whole, fresh, local ingredients as often as your time and budget allow. When you read about all of the benefits of using real foods, and just how delicious they really are, you'll understand why it's our SAGE Standard, and perhaps make it yours too.
When we talk about "processed foods," we're referring to those factory-produced items that are substantially modified from their "scratch" form. Most often, these modifications are made for one of three reasons:


Sensory appeal—improving taste, texture, appearance;


Convenience—saving you time and/or effort; and


Shelf life—giving you longer to buy the product before it goes bad.


The appeal of processed foods is that they're attractive, delicious, and long-lasting. The problem is, they sacrifice essential nutrients that keep us healthy, and add ingredients that can have adverse effects on our health.
Processed foods tend to contain substantially more added sugar, salt, and trans fat than their from-scratch counterparts, and these additives can contribute to health problems. Canned vegetables, for example, typically contain high amounts of sodium, which can lead to long-term health issues like high blood pressure and heart disease. Canned fruit in syrup contains added sugars, which can lead to long-term health issues like cancer, diabetes, and heart disease. Any number of processed foods—from crackers to frosting to frozen desserts—contain trans fats, which raise "bad" LDL cholesterol and lower "good" HDL cholesterol, thus contributing to heart disease.
To make things worse, many processed foods are stripped of the valuable nutrients they naturally contain. The white flour that composes so many tortillas, pastas, cakes, and breads is a perfect example.  The outer layer, or bran, of a whole grain, contains antioxidants, B vitamins, and fiber. All of these nutrients are stripped from refined grains like white flour. The fiber naturally present in whole grains contributes to intestinal health and blood sugar regulation, preempting or alleviating conditions like diverticulitis and diabetes. It also decreases the risk of obesity by creating a feeling of fullness. The consumption of whole grains has been linked to lower risk of heart disease, cancer, infectious disease, respiratory disease, stroke, and early mortality. And white flour, although it is a grain product, has been so processed that it can offer none of these health benefits.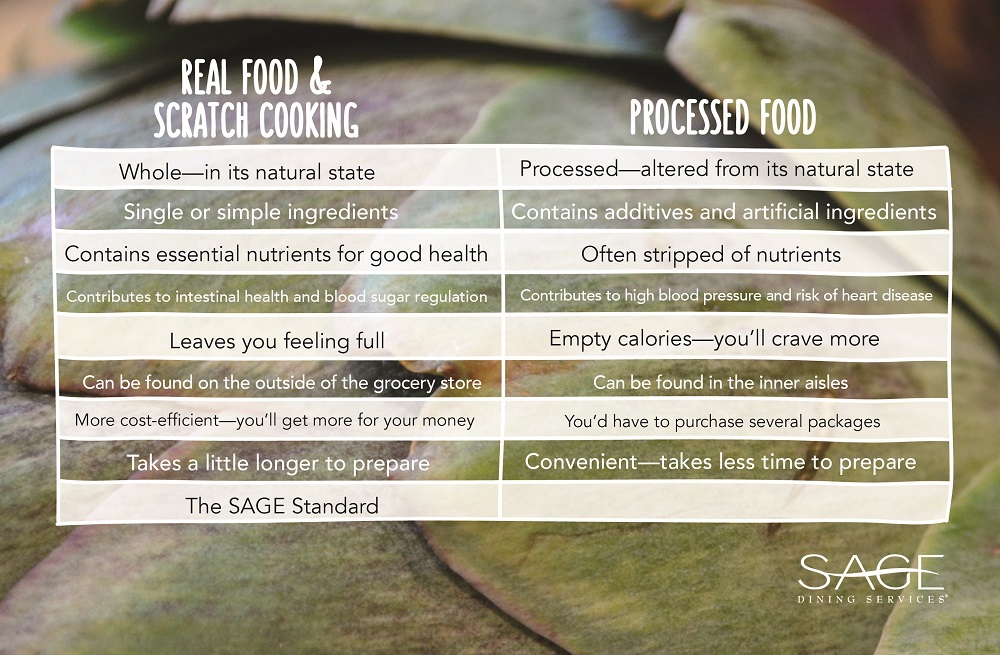 Consider the Spotlight Program, SAGE's nutrition education program, when consuming processed foods: enjoy in moderation, and fill only a quarter of your plate with these foods once or twice a week. Practically speaking, the best from-scratch buying practices involve looking for whole foods that don't need labels and opting for foods with short ingredient lists. Select fresh fruits and vegetables instead of canned. Choose whole-grain breads, cereals, and pastas instead of white. Enjoy plain oatmeal and yogurt sweetened with honey and fruit. Roast a chicken or ham for lunch meat, and get creative with spices, oils, and vinegars to create your own salad dressing.
Here are some simple, from-scratch recipes to replace some of your kids' favorite, but often processed, foods.
Macaroni & Cheese
Yields 8 Servings
Ingredients:
½ pound whole wheat, elbow pasta
3 tablespoons butter
3 tablespoons flour
1 tablespoon dry mustard
½ teaspoon paprika
3 cups whole milk
12 ounces sharp cheddar cheese, grated
Preparation:


In a large pot of boiling water, add the pasta. Cook until al dente.


Drain pasta and set aside. Don't rinse.


In a separate saucepan, melt butter over low heat.


Add flour and mustard to melted butter to make a roux.


Add milk and paprika to roux and stir constantly.


Add sharp cheddar cheese and stir constantly until the sauce thickens.


Place drained pasta back into large pot, add cheese sauce, and stir to incorporate.


Serve immediately.


Compare that with the standard prepackaged, processed mac and cheese, which contains: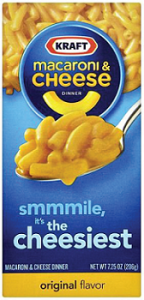 wheat flour (contains B vitamins: niacin, thiamine mononitrate, folic acid, riboflavin), iron in the form of ferrous sulfate, powder sauce: whey (milk protein), milk protein concentrate, milk, milk fat, cheese culture, salt, sodium tripolyphosphate, sodium phosphate, calcium phosphate, yellow 5 , yellow 6, citric acid, lactic acid, and enzymes.
Chicken Noodle Soup
Yields 12 8-ounce Servings
Ingredients:
¾ cup carrots, diced
¼ cup celery, diced
¾ cup onion, diced
2 tablespoons canola oil
½ pound cooked, diced chicken breast
¾ gallon chicken stock
¼ pounds capellini pasta
½ teaspoon kosher salt
¼ teaspoon ground black pepper
Preparation:


Over medium heat, saute carrot, celery, and onion in canola oil until translucent.


Add diced chicken and stock to pot. Bring to a boil.


In a large pot of boiling water, add the pasta and cook until al dente.


Season soup with salt and pepper. Pour over pasta.


Compare that with the standard prepackaged, processed soup, which contains: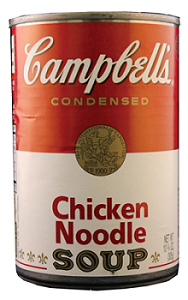 chicken stock, cooked enriched egg noodles with added calcium (wheat flour, calcium carbonate, eggs, egg whites, niacin, ferrous sulfate, thiamine mononitrate, riboflavin, folic acid), water, cooked chicken meat, contains less than 2% of: salt, vegetable oil, potato starch, chicken fat, monosodium glutamate, dehydrated cooked chicken, onion powder, modified food starch, yeast extract, spice extract, soy protein isolate, sodium phosphates, chicken flavor (contains chicken stock, chicken powder, chicken fat), dehydrated garlic, and beta carotene.