Q: Dear SAGE,
Yesterday, my twelve-year-old came home and said she was interested in eating more plant-based dishes after learning about agricultural deforestation. I'm proud of her environmental convictions, but I'm not sure what that means for her health and our already chaotic dinner routine. Where do I begin?
Sincerely,
An Overwhelmed Momnivore
A: Global eating habits are becoming increasingly plant-based, especially in the traditionally meat-loving West. The motivations that push individuals towards a more plant-based diet, and the items they choose to eat, vary from person to person. Have a conversation with your daughter to help guide your strategy moving forward. Here's some information that may help.
For many, plant-based eating is a religious or ethical choice made out of respect for life, and in acknowledgement of animal welfare and world hunger. Others have environmental reasons—to reduce resource consumption, soil erosion, water pollution, deforestation, and loss of biodiversity. For still others, it's a health choice. Compared to omnivores, vegetarians consume less cholesterol and saturated fat and more potassium, fiber, magnesium, and vitamins C and E. This nutritional portfolio is correlated with longer life and lower rates of chronic disease.
Many people, your daughter included, identify broadly as "plant-based eaters." Although there are many subcategories (see the chart below), all of them eat more plant foods to shift the focus away from meat. To avoid malnutrition, plant-based eaters need to incorporate nutrients of concern for underconsumption: iodine, zinc, calcium, protein, iron, omega-3 fatty acids, and vitamins A, B12, and D. And just like anyone else, they need to limit nutrients of concern for overconsumption, including added sugar, salt, and saturated fat.
Find out if your daughter wants to eliminate animal-based products from her diet in addition to incorporating more plant foods, and if so, why. In young women, vegetarianism is correlated with eating disorders. Many adopt vegetarianism to lose weight, maintain a low weight, or conceal increasingly restrictive eating patterns. As young women's bodies change and they learn that their perceived attractiveness can affect their social and professional opportunities, some seek control through restrictive eating. Investigate further if your daughter cuts out an increasing number of foods and struggles to explain why.
Momnivore, you've got a lot to think about. Luckily, SAGE has lunch covered. With our wide range of protein-rich vegetarian and vegan options, our Vegitas® station concept, and our online menu's filtering functionality, which allows users to easily find vegan and vegetarian options on the menu, your daughter will have a variety of healthy, delicious plant-based options that accommodate her choice.
Here are some tips for incorporating plant-based eating habits into daily meal prep:


Eat the same plant-based meal as a family at least once a week to make your daughter feel included, and to add more veggies to your family's diet. To start, try a Meatless Monday!


When you have meals heavy in meat, egg, or dairy, offer to cook a plant protein for her with the same method or the same sauce.


Batch-cook for the week. Offer a variety of options, using sauces to keep roast veggies, beans, and whole grains interesting. Look to Asian and Indian cuisines, which often feature plant-based entrées, for inspiration.


Involve her in prep, cooking, and cleanup. Have her pick out produce at the farmers' market or tend to a family garden.


To omit eggs when binding baked goods, keep these substitutes handy. One egg is equivalent to one small mashed banana, ¼ cup applesauce, or two tablespoons cornstarch.


Pick up some cookbooks that emphasize plant foods from the local library and let your family mark recipes to make together.


Fill your pantry with these staples: beans and lentils, pickles, spices, oils, vinegars, dried fruits, trail mix, oatmeal, and other whole grains.


Have these versatile veggies on hand to make nutritious meals: avocado, mushrooms, leafy greens, carrots, onions, squash, eggplant, and fresh herbs.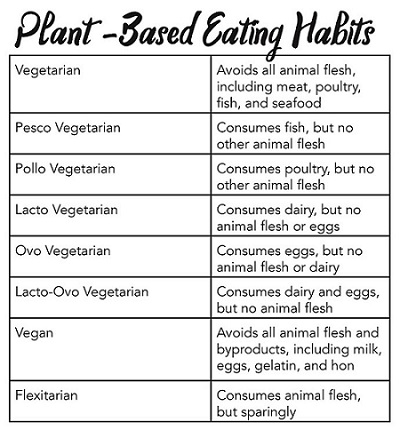 Citations
Bardone-Cone, Anna M., et al. "The Inter-Relationships between Vegetarianism and Eating Disorders among Females." Journal of the Academy of Nutrition and Dietetics, vol. 112, no. 8, 2012, pp. 1247-52.
"Becoming a vegetarian." Harvard Health Publications, 2016, http://www.health.harvard.edu/staying-healthy/becoming-a-vegetarian. Accessed 2 June 2017.
Chénier-Cowan Rose, Mielle. Veganish: The Omnivore's Guide to Plant-Based Cooking. Viva, 2014.
Driggers, Julia. "The Vegan Teen Athlete." Vegetarian Journal, no.1, 2010, http://www.vrg.org/journal/vj2010issue1/2010_issue1_vegan_teen_athlete.php. Accessed 2 June 2017.
Finnigan, Brooke. Vegetarianism and Disordered Eating. National Eating Disorder Information Centre, 2004.
Klopp, Sheree A., et al. "Self-reported vegetarianism may be a marker for college women at risk for disordered eating." Journal of the American Dietetic Association, vol. 103, no. 6, 2003, pp. 745-47.
López-Alt, J. Kenji. "How to Stock a Vegan Pantry." Serious Eats, 2013, http://www.seriouseats.com/2013/02/how-to-stock-a-vegan-pantry-items-foods-beans-condiments-sauces.html. Accessed 2 June 2017.
Mangels, Reed. Vegetarian Nutrition for Teenagers. The Vegetarian Resource Group, 2007.
Mangels, Reed, and Katie Kavanagh-Prochaska. "Vegan Nutrition in Pregnancy and Childhood." The Vegetarian Resource Group, 2003, https://www.vrg.org/nutrition/pregnancy.htm. Accessed 2 June 2017.
Niklas, Christina. Vegetarian Nutrition. The Vegetarian Resource Group, 2009.
"Raising Vegetarian Kids." PBS Parents, 2015, http://www.pbs.org/parents/food-and-fitness/eat-smart/raising-vegetarian-kids/. Accessed 2 June 2017.
Rossiter, Kelly. "On Moving Toward Vegetarianism: Getting the Protein You Need." Treehugger, 2008, https://www.treehugger.com/green-food/on-moving-toward-vegetarianism-getting-the-protein-you-need.html. Accessed 2 June 2017.
Rossiter, Kelly. "On Moving Toward Vegetarianism: Teenagers." Treehugger, 2008, https://www.treehugger.com/corporate-responsibility/on-moving-toward-vegetarianism-teenagers.html. Accessed 2 June 2017.
Save Our Water the Vegetarian Way. The Vegetarian Resource Group, 2009.
Seidenberg, Casey. "Your child wants to go vegetarian, so now what?" The Seattle Times, 7 July 2013, http://www.seattletimes.com/seattle-news/health/your-child-wants-to-go-vegetarian-so-now-what/. Accessed 2 June 2017.
Timko, C. Alix, et al. "Will the real vegetarian please stand up? An investigation of dietary restraint and eating disorder symptoms in vegetarians versus non-vegetarians." Appetite, vol. 58, no. 3, 2012, pp. 982-90.
Vegan Diets in a Nutshell. The Vegetarian Resource Group, 2014.
"Vegetarian Diets for Children: Right from the Start." Physicians Committee for Responsible Medicine, 2002, http://www.pcrm.org/health/diets/vegdiets/vegetarian-diets-for-children-right-from-the-start. Accessed 2 June 2017.
"Vegetarianism in a Nutshell." The Vegetarian Resource Group, http://www.vrg.org/nutshell/nutshell.htm. Accessed 2 June 2017.
"Vegetarian Lesson Plan." The Vegetarian Resource Group, 2001, http://www.vrg.org/essay/lessonplan.htm. Accessed 2 June 2017.
Wyckoff, Whitney Blair. "Raising Vegetarian Kids? Here Are Some Pointers." NPR, 2010, http://www.npr.org/templates/story/story.php?storyId=129137062. Accessed 2 June 2017.