Go on a blueberry-picking excursion with the kids, then use your spoils in this beautifully tender, refreshing cake. The sweet blueberries temper the vibrant lemon zest, and the light, fluffy cream cheese frosting adds just the right amount of tang.
Serves 10-12
Ingredients:
Cake
1 cup unsalted butter, at room temperature
1¼ cups granulated sugar
½ cup packed dark brown sugar
4 large eggs, at room temperature
1 tablespoon pure vanilla extract
3 cups sifted all-purpose flour
1 tablespoon baking powder
½ teaspoon salt
1 cup whole milk
Zest and juice of 3 medium lemons
1½ cups blueberries
1 tablespoon all-purpose flour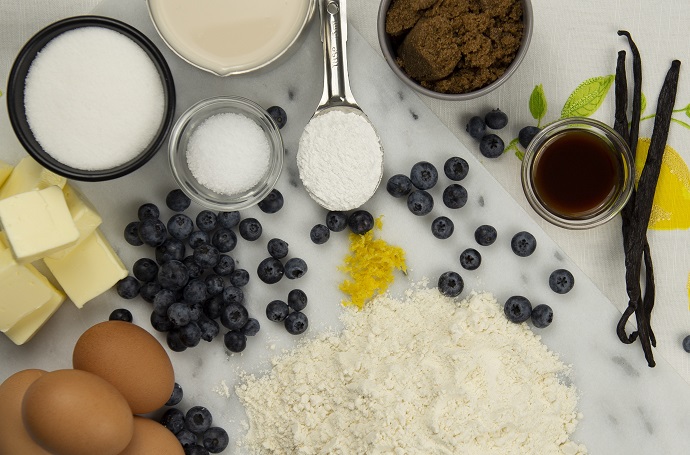 Frosting
8 ounces full-fat brick-style cream cheese, at room temperature
½ cup unsalted butter, at room temperature
3½ cups confectioners' sugar
1-2 tablespoons whole milk
1 teaspoon pure vanilla extract
1 teaspoon lemon zest
⅛ teaspoon salt
Garnish (Optional)
Blueberries
Lemon zest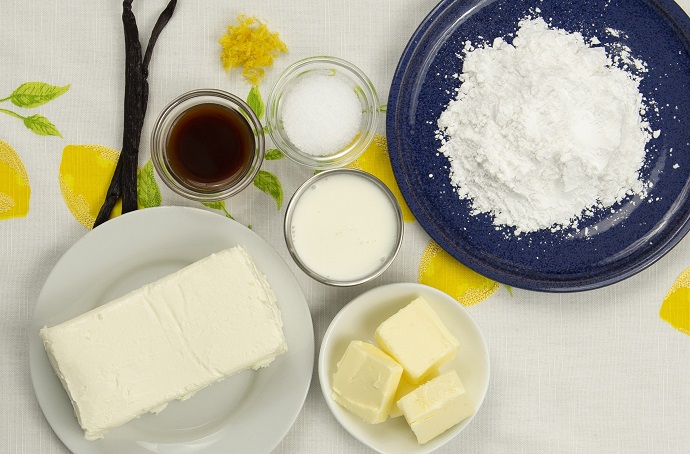 Preparation:
For the Cake
Step 1: Preheat the oven to 350°F. Grease and lightly flour three 9"x 2" cake rounds. Set aside.
Step 2: Using a handheld or stand mixer with a paddle attachment, whip the butter on high until creamy, about 1 minute.
Step 3: Add granulated and brown sugars and beat on medium-high until creamed, about 2-3 minutes.
Step 4: Add eggs and vanilla. Beat on medium until everything is completely combined, about 2 minutes. Set aside.
Step 5: In a large bowl, mix the flour, baking powder, and salt. Slowly add the dry ingredients to the wet ingredients. Beat on low speed for 5 seconds.
Step 6: Add the buttermilk, lemon zest, and lemon juice. Remove from the mixer and stir lightly until everything is just combined.
Step 7: Toss the blueberries in 1 tablespoon of flour and gently fold them into the batter. The batter will be thick; don't overmix.
Step 8: Spoon batter evenly into prepared cake pans.
Step 9: Bake the three layers for 21-26 minutes, until a toothpick inserted in the center comes out clean. Remove from the oven and allow to cool completely before frosting.
For the Frosting
Step 1: Using a handheld or stand mixer with a paddle attachment, beat cream cheese and butter together on medium until no lumps remain, about 3 minutes.
Step 2: Add confectioners' sugar, 1 tablespoon milk, vanilla extract, lemon zest, and salt to mixer on low. Increase to high and beat for 3 minutes.
Step 3: If desired, add 1 more tablespoon of milk to thin the frosting. Divide frosting into four equal parts.
To Assemble
Step 1: Using a large serrated knife, trim the rounded tops off the cake layers to create a flat surface.
Step 2: Place 1 layer upside-down on your cake stand. Evenly cover the top with one part frosting. Top with second layer, second part frosting, then third layer. Top with the remaining frosting and spread around the sides. The recipe makes just enough to lightly frost the cake.
Step 3: Top with blueberries and lemon zest, if desired. Refrigerate for at least 45 minutes to set before cutting.