It's berry season! Use your freshly picked raspberries and strawberries for this protein-rich, summer-inspired dessert.
Ingredients:
1/8 cup raspberries
1 ¼ cups strawberries
1 tablespoon strawberry jam
Cooking spray
1 1/3 cups crushed graham crackers
2 tablespoons trans fat-free margarine
1 tablespoon brown sugar
8 ounces firm tofu
2/3 cup cream cheese
2/3 cup granulated sugar
1 egg
½ teaspoon unsweetened lemon juice
½ teaspoon lemon zest
1 tablespoon all-purpose flour
½ teaspoon vanilla extract
7 raspberries (garnish)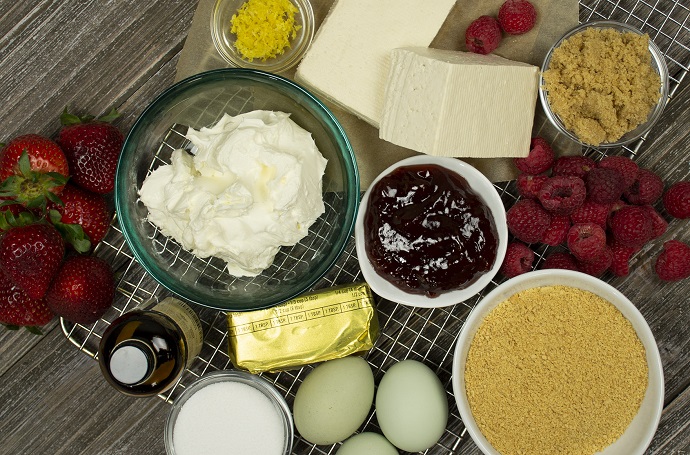 Preparation:
Step 1: Trim strawberries. Melt margarine. Slice tofu.
Step 2: Heat oven to 350°F.
Step 3: In a saucepan over medium heat, cook berries and jam for 5 minutes, stirring occasionally.
Step 4: Mash berries with a fork and cook until mixture measures 1/3 cup (per pan). Set aside and allow to cool.
Step 5: Spray an 8-inch spring form pan with cooking spray. Wrap outside with foil and line inside, bottom, and sides with cut parchment paper. Spray pan again.
Step 6: In a food processor, combine graham cracker crumbs, melted margarine, and brown sugar. Process until crumbs are moistened. Press into the bottom of the pan.
Step 7: Bake for 10 minutes. Allow to cool.
Step 8: In a clean food processor, combine: tofu, cream cheese, and sugar. Process for 1 minute or until smooth. Scrape the sides of the bowl and mix when needed.
Step 9: Add egg, lemon zest, lemon juice, flour, and vanilla. Process for 1 minute or until smooth.
Step 10: Pour mixture into the pan. Smooth the top.
Step 11: Drop dollops of berry mixture around top of the cheesecake and swirl with a butter knife.
Step 12: Lightly cover pan with aluminum foil and bake for 50-70 minutes.
Step 13: Cool and refrigerate overnight. Garnish with raspberries.