Serves 6
Ingredients:
4 3/4 ounces canned artichoke hearts
2 ¼ ounces roasted red peppers
1 ounce Kalamata olives, pitted
2 teaspoons capers
¼ ounce chopped fresh basil
2 teaspoons balsamic vinegar
½ teaspoon vegetable oil
1 ¼ cups eggplant, sliced
½ ounce salt, coarse
Vegetable oil (for grilling)
6 ounces roasted red pepper strips
3 ounces arugula
6 ciabatta rolls
6 ounces provolone cheese, sliced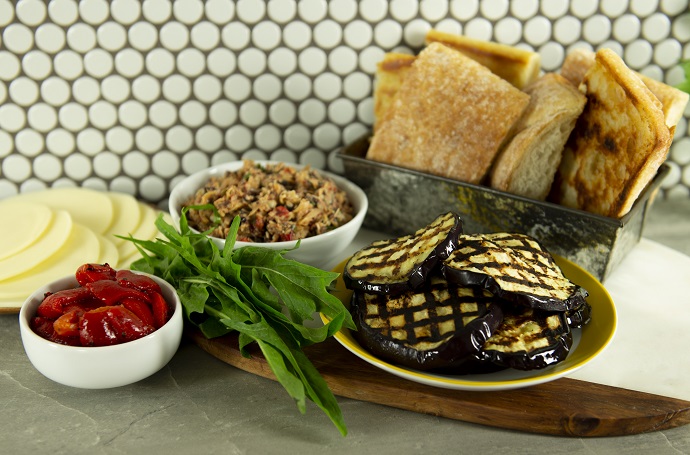 Preparation:
Step 1: Drain canned ingredients. Split ciabatta rolls.
Step 2: Lay eggplant slices on sheet pans. Sprinkle both sides with salt. Pat dry after 15-20 minutes.
Step 3: Preheat grill to medium-high heat. In a food processor, combine artichokes, red peppers, olives, capers, basil, vinegar, and oil. Pulse until finely chopped. Refrigerate tapenade. This can be made a week ahead.
Step 4: Season grill with oil. Brush eggplant slices with oil; sprinkle with salt and pepper. Place on grill and cook eggplant slices 3-4 minutes per side. Slices can be rotated 90 degrees halfway during cooking to produce cross-hatch marks.
Step 5: On each ciabatta, layer eggplant slices, red pepper, sliced provolone, arugula, and 3 tablespoons artichoke tapenade.