This veggie-packed pasta dish makes a great weeknight meal. Pair it with these Golden Romano Garlic Knots!
Serves 6
Ingredients:
9 ounces farfalle pasta
1 cup diced yellow squash
1 cup diced zucchini
½ diced red bell pepper
½ diced green bell pepper
¼ cup diced red onions
¼ cup diced onions
¾ cup drained, chopped canned artichoke hearts
2 tablespoons balsamic vinegar
3 peeled, minced fresh garlic cloves
1 ½ teaspoons dried basil
½ teaspoon dried oregano
½ teaspoon salt
½ teaspoon ground black pepper
½ cup balsamic vinaigrette salad dressing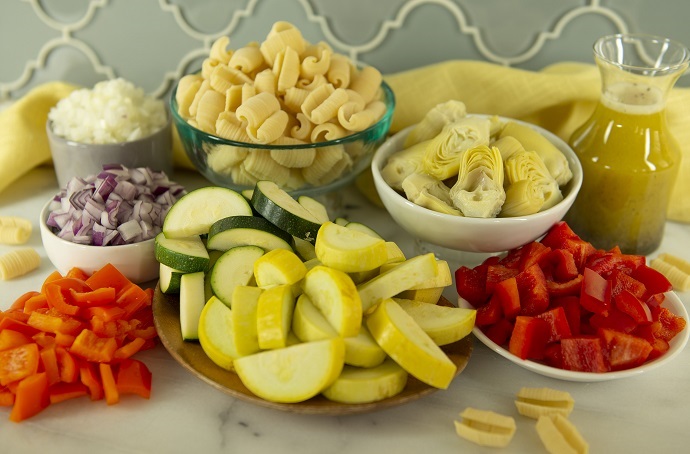 Preparation:
Step 1: Preheat your oven to 425°F.
Step 2: Cook the pasta according to box directions. Drain — do not rinse.
Step 3: In a large bowl, combine the squashes, bell peppers, onions, artichokes, balsamic vinegar, garlic, and seasonings. Mix well. Marinate for 15 minutes.
Step 4: Transfer the vegetable mixture to sheet pans and roast in the oven for 10 minutes. Turn on broiler and lightly char the vegetables for 5 minutes.
Step 5: Mix the roasted vegetables with the pasta and toss with the balsamic dressing.