In honor of Women's History Month in March, we're celebrating the women of SAGE, what they've already accomplished during their food service careers, and the outstanding example they set for students as they create exceptional dining experiences every day.
Senior Food Service Director Shiobanne Karampekios and Executive Chef Michele D'Amario lead the team at Beaver Country Day School in Massachusetts. They shared the stories of how they became so passionate about food service and what led them to SAGE — Shiobanne in 2019 and Michele in 2018.
How did you get inspired to start working in food service?
Shiobanne: My entire 15-year career has been in food service, even though my degrees are in biology and studio arts. My fondest memories of my dad, who has passed, always have to do with food. I grew up in Puerto Rico. Every time I remember my dad, it's always food and the memory and the smell and how it felt. My aunt, who is a pastry chef, said to take a summer job at The Ritz-Carlton as a hostess at the steakhouse. I completely remembered all those memories with my dad. I love the fast pace, the excitement, the guests, resolving problems — I just fell in love with everything about food.
Michele: I went to Johnson & Wales for culinary school. Before that, when I was in high school, I used to cook for my friends and make grilled cheese sandwiches. They were like, "You should be a chef!" That's how I got into it. I ended up really liking it and stuck with it full time for 20 years.
Who are the women you look up to, both personally and professionally?
Shiobanne: Number one was my aunt for sure. She built her own catering business on the side and still worked full time. I would go to her house and help her. She was so organized. She did such creative things. I'm very much like her. Professionally, the lady who I would say has marked my career is Jacqueline Volkart. She's currently the general manager at the St. Regis in San Francisco. When I met her at the hosting job, she was so gracious, so humble. A guest had left a plastic cup and a towel from the pool outside. I saw her pick them up. She came to me and introduced herself, and then I found out she was a GM. She rolls up her sleeves. She's worked every single hotel division that you can imagine. I really wanted to emulate her and be a Renaissance woman like she is. She always says girl power. Attention to detail is her middle name. I'm very much like that, and it's because of her. She's an incredible leader.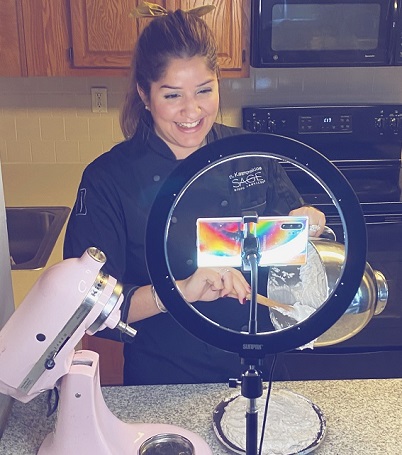 Michele: It's going to sound a little cheesy, but when I met Shiobanne, she and I are a really great team. She's strong on the front, and I'm strong in the back. Together, it's a very well-rounded team. She's been my first female I look up to. Even though she's front of the house, I've learned a lot from her. Most of my mentors have been men. I've worked with females, but they've been my staff.
What have you learned from being a member of Les Dames d'Escoffier — an organization celebrating women in food, beverage, and hospitality — and getting to know more women who share your passion for this industry?
Shiobanne: It's about community, giving back and educating young women and children. I was invited to join, and I'm adamant about being an active participant. I'm currently the chair of social media. Amazing chefs are members — Lydia Shire, Julia Child, Alice Waters. I can't believe I was nominated to be in this amazing group of people. I'm so honored. I had shared this info with Michele. I'm passionate about tasting the food, and she's passionate about making the food. I saw her passion and how she'd make a great contribution to Les Dames and how Les Dames would benefit her as well in terms of networking.
Michele: It's been great. It's a lot of local women here in Massachusetts. Because of COVID, of course, we're only doing Zooms. It's a great support group. You kind of network. I have met one female, another chef, who works for a nonprofit. You get to collaborate with a couple of things and see what other schools are doing. Shiobanne got me into it.
What's your favorite type of cuisine?
Shiobanne: French all the way, 24/7 — I love it.
Michele: Even though I'm American, I cook a lot of international food, particularly Middle Eastern food.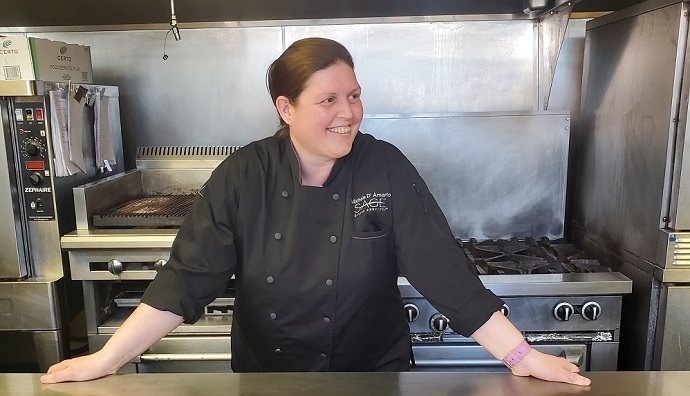 What were the early years of your food service career like?
Shiobanne: You dominate certain roles, and then you need a challenge because you get bored. My leaders could see that, and they saw the potential in me. I was a polisher, food runner, expeditor, server assistant, bartender, anything you can imagine. The very same steakhouse where I was a hostess, I became the first female GM there. I need to do a lot of things at the same time, just like my aunt. I was going to school and working five nights a week, and I still needed more of a challenge. I really got into baking and making novelty cakes. I opened a little business at the same time. My fondest memories were working at the hotel, going to school, and then when I got home at night, I would still be making these cakes, which I loved. I'm really passionate about food and beverage. I love all aspects of it.
Michele: I worked for hotels. I recently came from The Catered Affair here in Massachusetts. I was there for about eight years as a sous chef. Catering is the best thing for you because you become very well rounded. You cook different food every day.
What motivated you to join SAGE?
Shiobanne: My life circumstances changed. I met my husband, and we had a baby. My priorities changed. I wasn't spending enough time with my family. I still wanted something that could attach me to food and beverage but with a more sensible quality of life and work-life balance. I went online and saw this magical unicorn position at SAGE. This account in particular has been magic for Michele and me. It's the perfect venue for myself and her to shine and to deliver on the expectations of this particular community.
Michele: Work-life balance, to be honest — the account I work for is a day school, and having weekends off, with quotations around that because I do work on the weekends remote sometimes, was literally priceless. That's why I left my company. I was there for almost nine years.
The conversation continues as Shiobanne and Michele discuss how they partner with the Beaver community and motivate their team.