America loves football. No matter who you're cheering for, the food always plays a key role in watching the game.

Just this week, SAGE helped welcome students back to Berkeley Preparatory in Tampa, FL with a kickoff Fall Tailgate Picnic. While the entire Buccaneer community was celebrating, SAGE was busy prepping for the party.

We had a lot of fun prepping this menu!


Our favorites included:




Free Range Deviled Eggs that look like...Footballs.



Bacon Wrapped Grilled Jalapenos stuffed with a Shrimp and Scallop mousse.




Organic Lady Moon Farms Watermelon Mache Salad with Grilled Ruskin Red and Green Tomatoes.




Grilled Flank Steak with Big "GO BLUE" Cheese on Fresh-Baked Ciabatta Rolls.




Wraps and triangle sandwiches with SAGE's House-Roasted Turkey and Ham.



[caption id="attachment_22681" align="alignright" width="300" caption="Chocolate Strawberry Footballs"]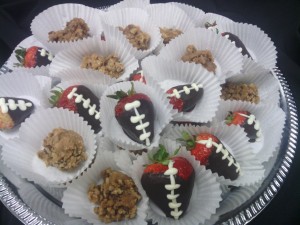 [/caption]
No party would be complete without dessert! Our chefs made a simple, yet creative dessert that you can make a home, Chocolate Dipped Strawberries that looked like...Footballs!
The next time you head to the game or you're hosting the party, we hope you'll find inspiration from the SAGE Kitchen. Simple and creative goes a long way and pairs well with great tasting food.
We should note, SAGE's Home Office is in Baltimore, so we're a little biased towards our home team.
[gallery orderby="rand"]