SAGE's chefs make our food memorable. Many are graduates of culinary schools, classically trained in Europe, or have lived and breathed food their entire lives. Our kitchens are filled with people that are passionate about what they do.

Sisters of Christian Charity Food Service Director Michael Tornetta is one of those people. We asked him to be a guest blogger and tell us about his kitchen "go to" item and why it's important. His choice may surprise you.























[caption id="attachment_22759" align="alignright" width="300" caption="Kale"]
[/caption]





















In our SAGE kitchen, I always keep a small box of Kale on hand for something special. I don't look at Kale as a garnish.

I remember first working with it years ago, on Nantucket Island when I was younger. We picked it, cleaned it, chopped it, blanched it, and quick sauteed it with cooked Farro and Roasted Butternut Squash. As I progressed on to other kitchens, it kept popping up. I would see it in soups, salads, vegetable sides, stir-fry, and even smoothies. I thought to myself, "wow what a versatile vegetable."

[caption id="attachment_22768" align="alignright" width="260" caption="Michael Tornetta"]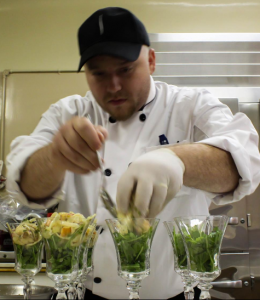 [/caption]

Kale is a year-round leafy green that has grown in popularity. It's used in many different cultural cuisines, such as Chinese, Portuguese, Irish, African, Swedish and Japanese. In China, they use it in quick stir-fry, in Portugal, it's used in soup, and in Japan it's juiced and consumed as a dietary supplement. In the U.S. it's become a popular smoothie ingredient.



As for my favorite way to serve Kale? Braised in stock with a little garlic, salt and pepper.

Kale has a high concentration of Vitamin A, C, K, Beta Carotene and Calcium. It is a true superfood that is a super star in my kitchen.

Mike has been with SAGE for 1 1/2 years. Portuguese Kale Soup is on his menu next week.