We're hearing a lot of talk about New Orleans right now. That's because Mardi Gras is in full swing. Head down Bourbon Street and you will find a variety of traditional N'awlins foods that feature the flavors of Spain, Africa and Native America with a bit of the West Indies, Germany, Ireland and Italy mixed in. From crawfish to jambalaya to gumbo, the talk of the town is about Cajun and creole cuisine in the French Quarter.

Many think creole and Cajun are one in the same. While both are rooted in French culture, they are very different.

Creole cuisine was traditionally enjoyed by wealthy, urban dwellers who had access to markets. Creole cooking typically uses tomatoes (Cajun does not), as well as cream, butter, seafood (not shellfish), garlic, herbs and just a touch of cayenne pepper. It gives rise to rich sauces, elegant pureed bisques, gourmet soups, brunch dishes and desserts.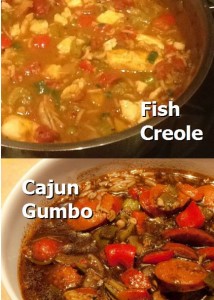 Cajun cooking was country fare. It revolved around being resourceful and using locally available ingredients. That could mean alligator or frog.

Cajun cooking is famous for being very well seasoned. Garlic and cayenne pepper are used in abundance. Shellfish and smoked meats are popular ingredients. Most dishes begin with a medley of sautéed vegetables similar to the French mirepoix. In Cajun cuisine, the mirepoix consists of onion, celery and bell pepper. (Creole mirepoix includes carrots)

Because of their extensive reliance on vegetables and spices, creole and Cajun foods have become popular options for health-conscious diners. These foods can be packed with: lycopene (a powerful antioxidant found in tomatoes); omega-3 fatty acids (which can lower your triglycerides and benefit your heart, and is found in fish); vitamins A & C (which boosts your immune system, and is found in peppers).

Mardi Gras, also known as "Fat Tuesday" doesn't have to be about unhealthy foods. Choosing creole and Cajun can help you enjoy the culture while getting some much needed nutrients.