Rice makes a great side dish, stuffing or main entree. But do you feel you're stuck in a rice rut?
Go global! With over 40,000 varieties, rice is the most popular grain around the world - and for good reason. It comes in many different flavors and textures, and can take on any flavor it's paired with. Try one of the dishes below to spice up any meal.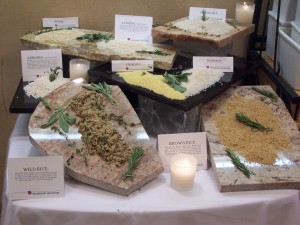 Dolmades (Greek) - Rice-stuffed grape leaf. Try this version from The Food Network: Dolmades.
Sushi (Japanese) – Rice is seasoned with vinegar and spread onto seaweed sheets. Fill with anything you like and roll up! Go for whole grains with this recipe from Epicurious: Vegetarian Brown Rice Sushi Rolls.
Étouffée (American Creole) – Shellfish, usually crawfish, in a thickened sauce served over rice. Emeril Lagasse shows off his southern cooking skills with this dish: Crawfish Étouffée.
Biryani (Indian) – Rice is cooked separately with many spices and combined with cooked meats or vegetables and sauce. Try this one-pot take on this classic Indian dish: Chicken Biryani.
Paella (Spanish) – Rice cooked in a large, shallow pan with saffron and any combination of vegetables, meat or seafood. This recipe uses the grill for a great tasting paella: Grilled Seafood Paella.