The Environmental Learning Center (ELC) at Greater Atlanta Christian School (GACS) in Norcross, GA, is remarkable for the breadth and variety of its holdings. The 10,000-square-foot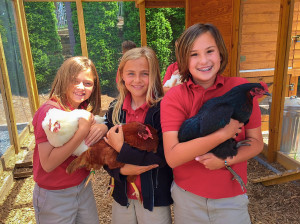 landscape center has a 2,300-square-foot greenhouse, a 3,000-gallon hand-pumped rain barrel, edible gardens, planting beds, a green-roof shed, a vermicomposting station, a bee hive, a chicken coop, a turtle pond, and a fish hatchery. Self-described "resident plant guy" James Lee asserts that one goal of the ELC is to facilitate "the hands-on, project-based application of classroom principles" in college-style lab courses where the students themselves plant, tend, harvest, and study the garden daily. In addition to offering immediate educational opportunities, the ELC—which stands on a reclaimed parking lot—models long-term sustainable practices for its students, with the hope of instilling a spirit of stewardship and respect for the natural world.
The greenhouse is home to an ever-changing array of seasonal vegetables, herbs, and fruit trees, as well as tropical plants—it boasts unusual residents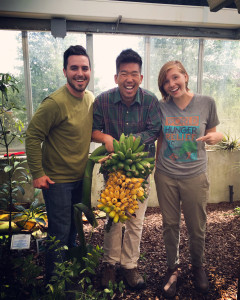 like carnivorous plants and banana, kola nut, and cacao trees. It also houses a "sustainability in action" area with hydroponic, aquaponic, and vertical growing systems. Outside, the Food Forest gives students hands-on experience with many native Georgia edibles so they can apply what they learn in their own backyards. The chicken coop, fish hatchery, and green-roof shed demonstrate principles of life cycle, water cycle, water quality, and sustainable building.
These resources aren't just great for the students—they benefit the whole community, especially where SAGE is concerned! The chicken coop provides a source of eggs, while the outdoor beds yield plenty of veggies and the greenhouse adds some fruit to the mix. According to Food Service Director Chris Frick, SAGE has incorporated student-grown Brussels sprouts, beans, carrots, kohlrabi, lettuce, tomatoes, squash, zucchini, parsley, cilantro, thyme, and basil into the school's daily menus. Garden-fresh produce labeled "From Here" can be found as creative toppings on the daily salad bar, in composed specialty salads at the Improvisations® station, and as crisp,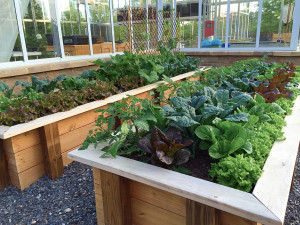 flavorful sides at The Main Ingredient®.
Although it would be reason enough, we're not just in this partnership for the great produce! We believe in GACS's philosophy of sustainability and experiential learning—it's the same philosophy behind SAGE's practice of teaching students how to make healthy food choices instead of carefully curating their plates. GACS hasn't just installed a finished product. They've sown, grown, and set the foundations for a thriving garden so that students can, as Lee says, "be invested in this venture from the beginning, and see the value of planting seeds for the future." Frick claims an added bonus: "The students get so excited when they've had a hand in the items being served—it's a great way to get them to try things they wouldn't touch otherwise!" It sounds like the school's goals are already coming to fruition!