Some seventh-grade girls spend their summer afternoons with friends on the beach, chasing the sweet spot between a summery glow and a sunburn while reading their favorite author's newest novel. At Garrison Forest School in Owings Mills, Maryland, a group of girls rests their heads on their desks while the lively intonations of an audiobook reverberate through the darkened classroom. When the tape clicks to a stop, the instructor flips the lights on and the girls lift their heads. Then, the discussion begins.
This isn't just another day of summer school. It's part of the selective Middle Grades Partnership between City Springs and Garrison Forest Middle Schools. This academic enrichment program brings Baltimore middle schoolers from schools in low-income areas to private schools in and around the city to stem summer learning loss, especially in math and language arts, and to prepare them to succeed in rigorous high schools. The program extends into the school year with shadow days that allow students from both schools to learn about each other's school environment and culture.
This year, 38 promising students have come from City Springs to pick up where they left off at the end of the school year. They benefit from one-on-one attention, customized lesson plans, subject-specific mentors, and Garrison Forest's philosophy of holistic wellness. They spend time in dance, digital media publication, and horseback riding classes in the morning, and pursue traditional academic subjects in the afternoon. The girls have an opportunity to flourish in a community of likeminded students who want to succeed. They experience the benefits of an all-girls environment: developing an independent voice, confidence, deeper friendships, and a broader perspective that carry over into the school year. They also develop study skills, get help with their summer work for high school, and go on college visits. In the words of Andrea Perry of GFS, the girls leave "ready to up their game," as evinced by the data, which shows a cluster of MGP students who are accepted into Western, Poly, IND, Dunbar, and other high-performing Baltimore high schools.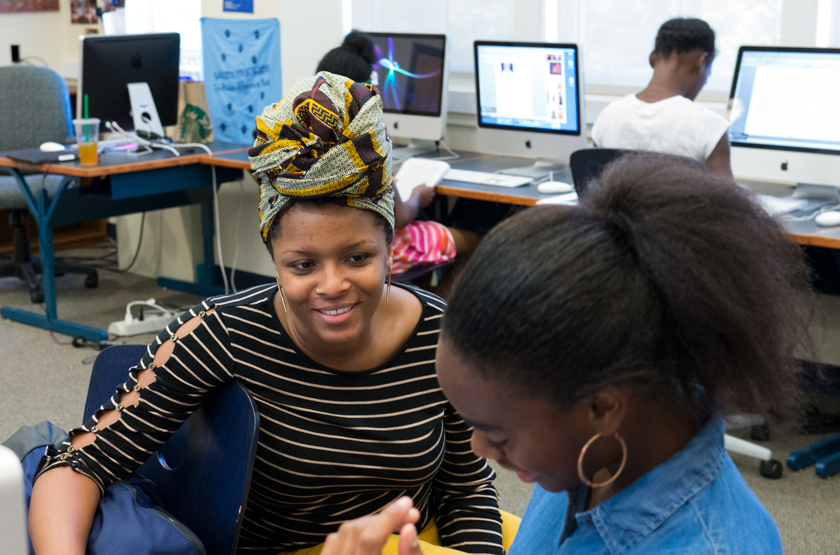 Though this program might seem distant from the dining hall, lunch is central to the educational experience. The students, who are accustomed to City Title I food, enjoy being exposed to a wide variety of fresh, wholesome foods and a high-quality, social dining experience. It's a win on all sides: the girls get to make food choices and enjoy healthy snacks and carefully crafted menus, and we get to introduce the girls to what SAGE Assistant Food Service Director Kevin Vaughn calls "a whole new world of fruits, beverages, entrees, salads, and deli meats"—including the girls' favorites, our Mangia! Mangia! station, which serves Italian classics, and our Crossroads station, which serves exciting food truck-inspired dishes.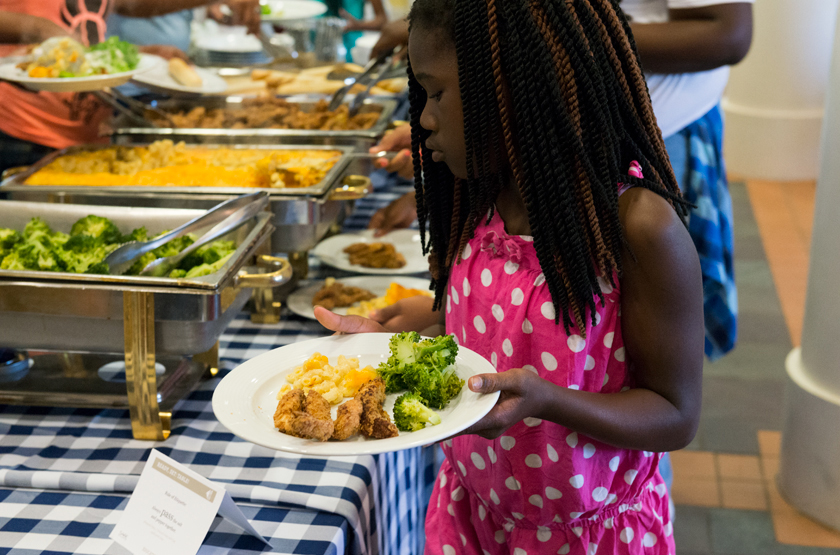 This is Vaughn's first year with MPG, and upon discovering that many of the girls had little exposure to food choice, restaurant-style service, or dining etiquette, he planned a special end-of-camp meal that would give them "something they [could] take away with them." As the girls sat down at preset tables, Vaughn began by sharing classic etiquette tips (swallow before speaking, taste food before seasoning, use outermost utensils first) in addition to his own food philosophy: that meals are a chance to share time with family and friends, refuel with nutritious food, and even further yourself professionally. To emphasize this last point, he couched the meal of home-style chicken, steamed broccoli, and mac and cheese in the context of making a good impression during a lunchtime job interview. His hope was to help these girls put their best foot forward as they go out into the networking-heavy professional world.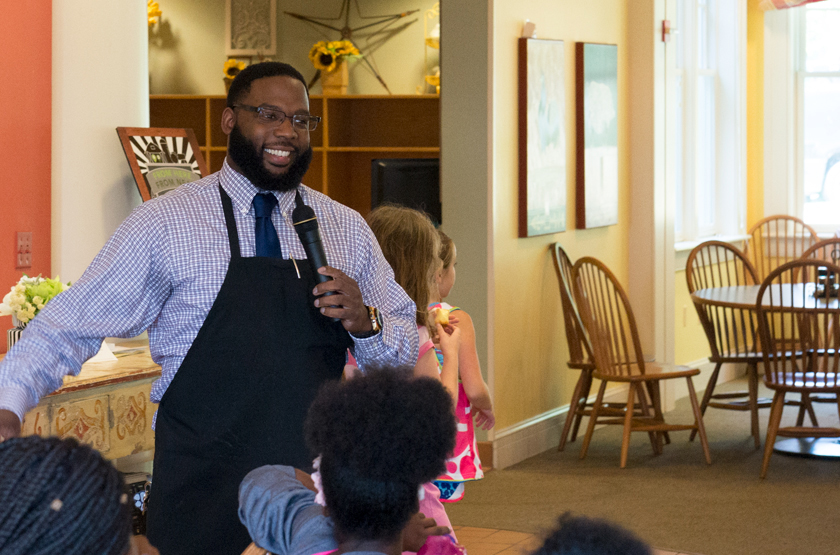 Shondra Cowling of GFS explains the emotional significance of the program: "The girls build connections with the same SAGE Team, the same teachers and classmates, every day. It's a relational thing." Vaughn agrees: "The girls get a lot more interaction with us [at SAGE] than they do in their cafeteria. A lot of them don't have someone asking them how their day's been during the school year. That's important." Those meaningful conversations are just as important as the delicious food that we serve at all 132 of our summer camps. Still, we're pleased to learn, upon asking, that a student's new favorite item is always "Whatever I'm eating now." After all, food is SAGE's specialty!