SAGE Dining Services® has been promoting healthy eating habits since its beginning in 1990. We know that nutrition has a big impact on our students' academic performance, attendance, athletic performance, and long-term health. That's why we put such care into making sure every menu is delicious, nutritious, and diverse—no small feat.
Every menu is composed of a variety of from-scratch recipes. Each recipe begins as an idea in a SAGE Chef's head. It's then submitted and tested in our kitchens. After every ingredient in the recipe is examined, it's tagged for allergens, color-coded based on its nutritional value, and entered into the Recipe Database of more than 10,000 recipes. Our Food Service Directors (FSDs) construct our menus by choosing specific dishes based on the needs and preferences of each community. They then share the menu with one of our five Registered Dietitians, who go through each menu by hand with a three-page checklist to make sure it meets our rigorous standards. They review at least three seasonal menu cycles for each of our 250-plus venues. That's at least 29,748 meals per year!
The FSDs and Dietitians ensure that each menu provides plenty of options, including complete-protein vegan and vegetarian dishes with all nine essential amino acids, and allergen-free options, especially for any allergies that are prominent in the community. We're careful to offer food allergen and animal product alternatives, including rice and soy milk, sunflower seed butter, house-made hummus, and a plain steamed veggie with no sauce. Every member of the community can use our online allergen filter and ingredient lists to be sure of what's in a dish. That way, everyone stays safe and satisfied.
Community members without dietary restrictions benefit just as much from our focus on variety. Students are exposed to different cultures and culinary trends through ethnic and street food options at our diverse station concepts—like Paquito's, Pacific Thyme, Crossroads, and Mangia! Mangia!. During menu review, the Dietitians check that these options are offered frequently, and that each main dish is accompanied by healthy, complementary sides.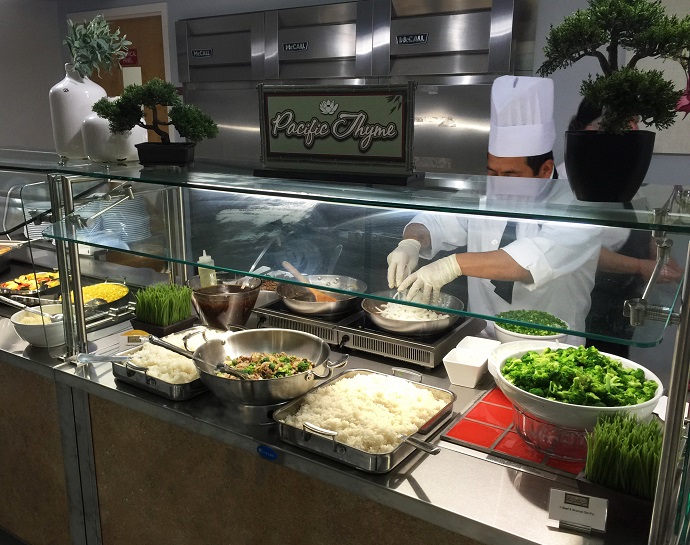 We also make it easy for students to choose a good balance of healthy foods and treats. The SAGE Spotlight Program®, which uses a color-coded system to show nutritional value, helps students make informed decisions about what to eat based on our approach to variety, balance, and moderation. Using the Spotlight system, the Dietitians assign each menu item a dot color to make sure that our communities have a variety of nutritious dishes to choose from each day, alongside popular—but less nutritious—treats to be enjoyed in moderation.
In addition to these guidelines, each menu meets our standards for fresh, wholesome ingredients and sustainable sourcing practices. We use fresh fruits and vegetables, and we offer a variety of whole-grain breads, bagels, and rolls. We roast deli meats and make salad dressings in-house. We cook with trans-fat free oils and MSG-free seasonings. We use antibiotic- and hormone-free milk, antibiotic-free chicken, and cage-free, Certified Humane® eggs in all of our dishes. We're especially proud to cook from scratch with local and campus-grown ingredients where possible—we love using fresh produce from the farms and gardens at our venues!
We invest our time and resources into menu review because we believe that a balanced menu, constructed with the needs and wants of the community in mind, is the foundation for strong academic, athletic, and extracurricular performance. We want our community members to look forward to each meal as a chance to relax, converse, and build relationships—without having to worry if there will be something healthy, safe, and delicious to enjoy. We welcome our communities' feedback in person, on comment cards, and online. Let us know about your favorite dishes and menu preferences—your input will help us make great menus even better!