This is Part 2 of a two-part series. Read Part 1 here.
At SAGE, we believe that positive dining experiences support and enrich classroom learning. As such, we make it our mission to create exceptional dining experiences that delight the senses, inspire minds, and foster community. Here's a step-by-step guide to how we fulfill our promise—and how you can make lunch a more enriching, educational experience:
Provide safe, delicious food for everyone. A great dining program starts with amazing food. We prepare a variety of foods with diverse nutrient and allergen profiles so that every community member can enjoy a healthy, balanced meal. We aim for variety and inclusivity so students with allergies and restricted diets can participate fully. We're sure to provide ample animal and vegetable sources of protein, along with a range of fruits, vegetables, and whole grains. All of our food meets our high SAGE Standards for safety and quality. Fueled with clean food, our students are energized—better prepared to learn in afternoon classes and participate in after-school activities like sports and clubs.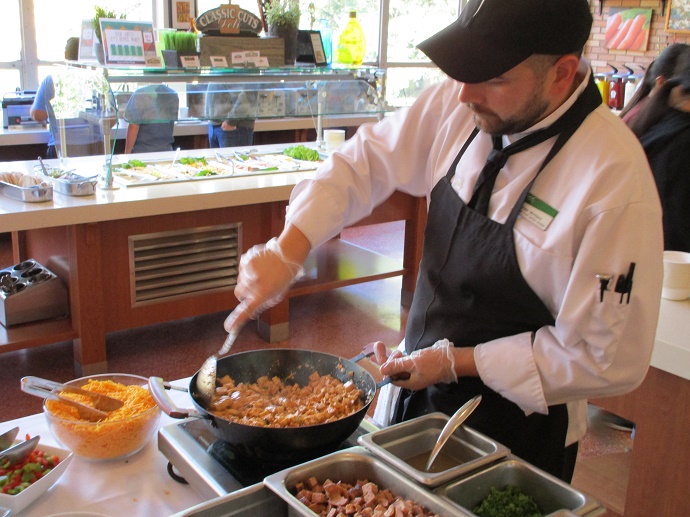 Teach healthy eating. We encourage healthier choices by classifying foods on the basis of total nutrient content and providing healthy alternatives to student favorites (e.g., hummus and veggies in addition to meat and cheese at the deli station). Our Spotlight program offers accessible nutrition information so students can make informed decisions. Our Spotlight on Performance program does the same for student athletes, with an eye toward giving them energy and protein for training and competition. Our online menu and allergen filter empower students to choose a delicious, balanced meal for their specific needs. The skills learned in our dining halls enable students to take charge of their health and wellness.
Show students where their food comes from. We introduce students to agriculture and inform them about the path their food takes from plant to plate. We use creative signage and informative marketing pieces to let students know which produce is organic, and which has been grown locally or on-campus. We support farming, gardening, and composting initiatives. We engage in display cooking and host Educational Seasonings events to help students better understand the ingredients we use to prepare their meals. These lessons teach students to feed themselves economically and well, purchase responsibly, and develop an understanding of their personal impact on the environment.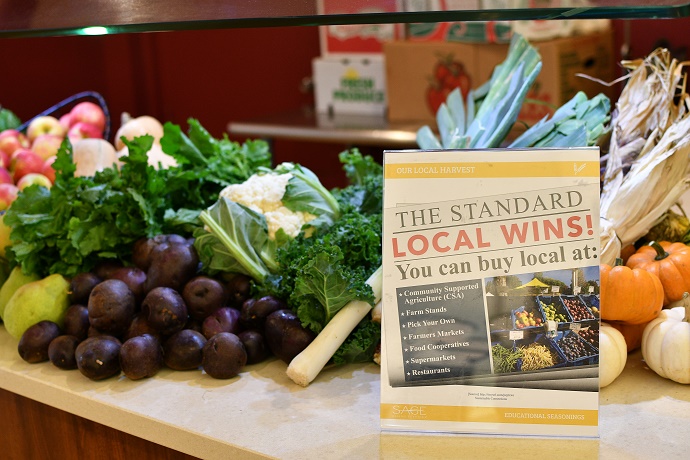 Share the cuisines of other countries and cultures. We include authentic menu items from other cultures at our Paquito's, Pacific Thyme, and Mangia! Mangia! stations, as well as on our main entree line and during Educational Seasonings events. We provide informational materials, including national and regional profiles and recipes. The authenticity of our meals and educational materials encourages students to develop a comprehensive understanding of other cultures.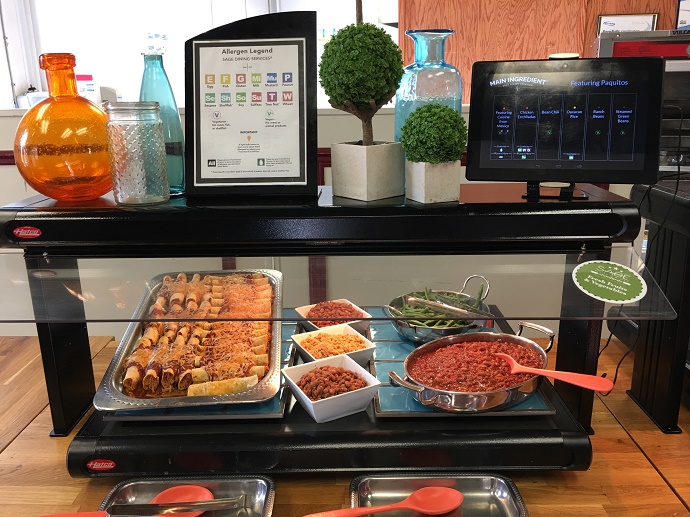 Cultivate community. We encourage students, faculty, and staff to sit together during lunch. We create community-inclusive dining experiences where everyone can enjoy the same amazing food. We tailor menus to the tastes of the community. We source locally, bring in local farmers, and support gardening and cooking initiatives to give students opportunities to connect with other members of their communities.
Create an enjoyable dining environment. We offer a number of enticing, clearly labeled choices accompanied by colorful signage. We work to shorten lines, improve traffic flow, and provide ample seating so community members have time to sit, relax, and enjoy their meals. By offering choice at every turn, prioritizing speed of service, and creating an inviting dining space, we give students the freedom to focus on food, friends, and conversation.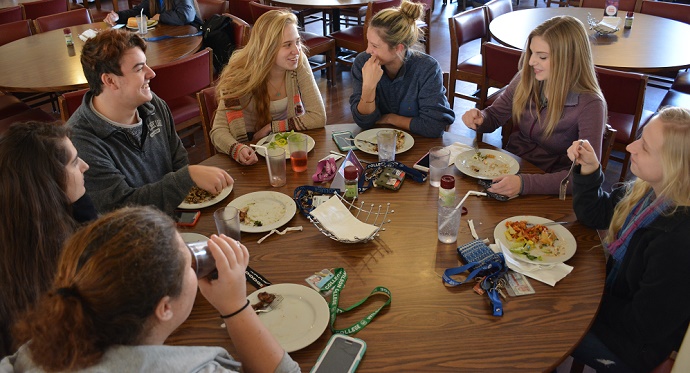 The food culture that you create speaks volumes about the values you want your students to uphold. Studies show time and again that positive changes in school dining settings effect positive changes in student behavior—from improved attendance and performance to an increase in understanding and consumption of nutrients. If your community is willing to allocate the time, focus, and funding to provide a great lunch, you'll be rewarded with healthier, better-acculturated, higher-achieving students. It starts with lunch.