We don't have to tell you that vegan and vegetarian lifestyles are continuing to gain momentum. Whether a community member has chosen to forgo animal products for environmental, ethical, health-related, or religious reasons, SAGE makes it easy to choose a delicious, balanced meal.
SAGE Standard: "We offer substantial vegetarian and vegan options."
What We Do
We include at least one vegetarian option daily at The Main Ingredient®. We provide at least two vegetables daily: one fresh, and one steamed with no butter or sauce. We serve one house-made vegetarian soup every day, and a vegan soup at least twice a week. We also offer one grain-based salad, two kinds of fresh-cut fruit, and fresh, house-made hummus every day.
At many venues, we also offer Vegitas®, a dedicated vegetarian station with hot and cold vegetarian options, including at least three complete protein dishes containing all nine essential amino acids. At least half of those complete protein dishes are vegan. We also provide rice milk, soy milk, and sunflower butter at every meal.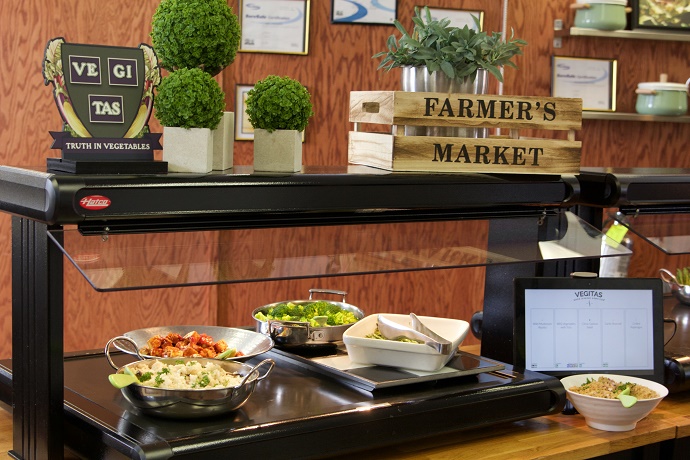 To top it all off, our online allergen filter can sort out items containing animal products and byproducts, so it's easy for our communities to adhere to their chosen diets.
Why We Do It
North Americans aren't getting the recommended amount of fruits and vegetables, even though diets rich in fruits and veggies have been demonstrated to reduce the risk of heart disease and cancer.
By providing a variety of vegetarian and vegan options, we can accommodate for the special diets of those with food allergies, religious or cultural beliefs regarding food consumption, and ethical or environmental concerns regarding the consumption of animal products or byproducts. We can also encourage all of our students to eat more fruits, vegetables, and grains. By modeling a diverse vegetarian and vegan diet rich in legumes, nuts, seeds, soy, and whole grains, we're making it easier for students to follow their desired eating pattern in a healthy way.
It's important for us to model healthy, well-balanced vegetarian diets for students who may be experimenting with vegetarianism or veganism as a result of changing worldviews but are unaware of the challenges of maintaining a healthy plant-based eating pattern, and for those who may be at risk for an eating disorder and are using a transition away from animal products as the first step in a pattern of food restriction.
This is just one more way we strive to offer delicious, diverse meals while equipping our community members with the knowledge to make healthy, independent choices.