Cuba is an island country with a Spanish-speaking populace, a tropical climate, a communist government, and a rich tradition rooted in the mixture of West African, Caribbean, and Spanish cultures. Cuban cuisine is heavy on white rice, beans, root vegetables, and spices. Tropical fruits, meat, seafood, and coffee round out the menu. Cubans celebrate holidays with feasts that usually include roast pork and elaborate desserts like arroz con leche, tres leches cake, and flan.
This SAGE Chef-created dinner recipe is free of the top 12 allergens in the U.S. and Canada: eggs, fish, gluten, milk, mustard, peanuts, sesame, shellfish, soy, sulfites, tree nuts, and wheat.
Serves 8
Ingredients:
8 garlic cloves, minced
1 teaspoon kosher salt
½ teaspoon ground black pepper
2 tablespoons lime juice
1½ pounds boneless, skinless chicken breasts
¼ cup vegetable oil
6 red bliss potatoes, peeled and diced
1 small onion, diced
1 red bell pepper, seeded and diced
1 green bell pepper, seeded and diced
1½ cups tomato sauce
10-12 green olives, pitted
1½ teaspoons chopped fresh oregano
½ teaspoon ground cumin
¼ cup capers
2 bay leaves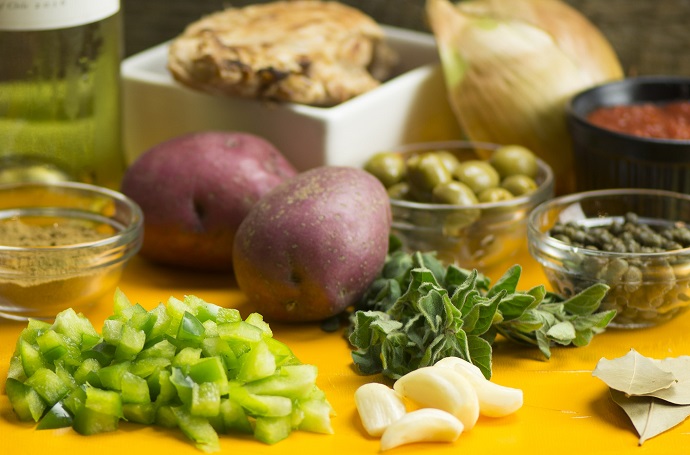 Preparation:
Step 1: In a mixing bowl, combine garlic, salt, pepper, and lime juice. Coat chicken in mixture. Cover and refrigerate 2 hours to overnight.
Step 2: Heat oil in deep saucepan over medium heat. Remove chicken from marinade and reserve marinade. Lightly brown chicken on both sides. Remove chicken from pan and set aside.
Step 3: Add potatoes, onion, and peppers to same pan. Sauté over medium heat until onions are translucent, approximately 3 minutes. Add reserved marinade, tomato sauce, olives, oregano, cumin, capers, and bay leaves. Increase heat to bring mixture to a boil.
Step 4: Reduce heat to low. Return chicken to pan. Cover and simmer for 30 minutes, stirring occasionally, until potatoes are tender and chicken reaches 165°F internally.
Step 5: Remove bay leaves before serving.