In honor of Liberty Delight's 10th anniversary, we're celebrating our partnership. We're proud to offer their meats at several MD schools and the SAGE Home Office.
Liberty Delight, a natural livestock farm in Reisterstown, MD, was founded by Shane Hughes in 2008, right at the start of the buy-local movement. It's grown from one man to a 15-person staff, and from only beef to include rabbit, pork, chicken, turkey, and lamb. Surrounded by natural preserve, the 100-acre farm has six gated pastures that generously feed 160 cattle, as well as spacious barns for all of the animals. A world unto itself, the entire farm resonates with the three tenets of Hughes' farming—kindness, sustainability, and quality.
It's not every day that kindness comes to mind as a farming staple, but it's apparent from the start of our tour at Liberty Delight. Hughes' cows love him, and he returns the affection of his "girls" with tangible, practical steps to keep them happy, healthy, and comfortable. To feed his cattle, Hughes rotates them through fenced pastures so they can graze freely in the warmer months. He also provides them with high-quality hay and haylage—think wet grass clippings—grown right on the farm and additional acreage within 4 miles.  Because feed quality affects meat quality, Hughes feeds his steers a weight-based mixture or dry hay, wet haylage, and grain for extra nutrients in the winter. A local farmer produces the grain, and a local mill mixes in wheat, corn, oats, soybean, and other crops in whatever proportions Hughes specifies. To determine what mix is right, Hughes works with a nutritionist, who takes samples of the feed he grows and determines if it's lacking in certain proteins or sugars. The nutritionist also advises him on different types of grass to plant and the ideal time to harvest feed crops.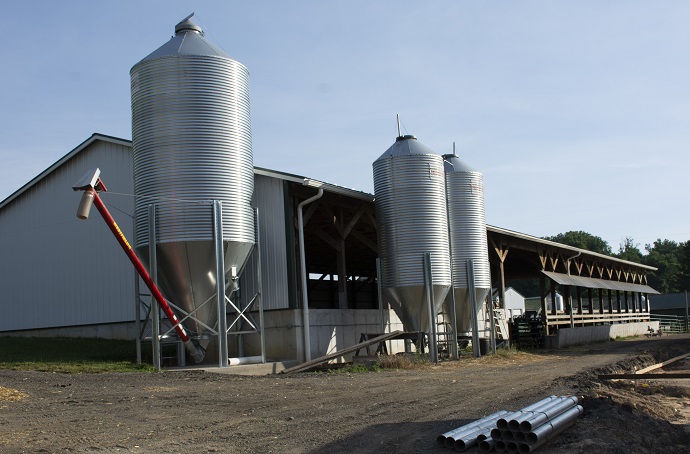 Hughes demonstrates the same care with his cattle's living conditions as their food. The barnyards and walkways are built on concrete to give them a safer, more stable platform. It prevents them from getting stuck in the mud or having it impacted into their hooves; it's also easier to clean. He also makes sure they have ample shelter in the barns themselves—he only fills his barns to three-fourths of capacity to give his herd extra space, and he beds them down with straw in the winter to keep the animals warm and dry and the barns clean. Some additional wintertime measures he takes are setting the chicken barn above concrete with radiant heat to keep the chicks warm, and penning up the bulls from February to July so no calves will be born when it's cold and snowy.
Hughes nourishes his cattle in smart, sustainable ways. When the Maryland Department of Agriculture had Hughes fence off the streams that cut through the property, he built three gravity-flow watering stations. The watering stations provide fresh, constantly flowing water for the steer without muddying or polluting the reservoir downstream.
To further supplement his animals' feed, Liberty Delight partners with Santoni's Market in Glyndon, which saves all of their fruit and vegetable scraps for the cows and pigs.
On top of it all, Hughes runs a lean shop. He partners with a USDA-certified third-generation butcher in Pennsylvania and only harvests what he needs for an order. That allows Liberty Delight to offer single-steer ground beef—and the farm only needs two walk-in freezers and a refrigerator!
Hughes is so passionate about quality that Liberty Delight distributes most of its own meat directly to the consumer. They have their own refrigerated trucks and drivers to make sure the meat's handled correctly on its way to the consumer. The one exception is their partnership with The Common Market, which impressed Shane and Lauren with its safe, clean facility and strong mission—so much so that Liberty Delight has been Common Market's exclusive pork provider since March 2017.
Liberty Delight sells direct to consumer through farmshares and Chesapeake Farm to Table. They also sell to 35 local restaurants, and through five farmers' markets. They take about 3,000 pounds of meat to every farmer's market, everything from bacon and chicken sausages to individual steaks with sous-vide friendly packaging.
Keep an eye out for Thursday's Q&A with former Legg Mason VP Shane and former Washington Post advertising exec Lauren for an in-depth look at their animal-raising philosophy, day-to-day life, and unusual path to Liberty Delight.