Spring has sprung! At many SAGE venues, we're getting our campus gardens ready for planting. 70% of the communities we serve have a type of garden – from small herb boxes to small farms – and we enthusiastically harvest from them for our recipes.
We know how important it is for young people to be exposed to gardening. Research shows that gardening experiences from childhood through young adulthood affect the amount of fruits and vegetables that young people eat. So, how do you start? We caught up with Rylan Snodgrass, Food Service Director at River Oaks Baptist School in Houston, to chat about her first on-campus gardening adventure.
What did you plant, and why?
Tomatoes, basil, rosemary, oregano, parsley, cilantro, fennel, carrots, lettuces, and zinnias. I'm planting some heirloom tomato seeds, watermelon, and cucumber here in the next few days, so I'm really excited to see what becomes of those.
Most of these plants are for culinary uses in the kitchen. The fennel is used as an anti-microbial and anti-fungal in the garden. The oregano is used as ground cover, and the marigolds help keep the nematodes (roundworms) out of the tomato plants. The zinnias help attract bees to my garden. There's a large pollinator garden as well. We also have some fruit trees ꟷ lemon, orange and fig, but they won't yield anything for five to seven years.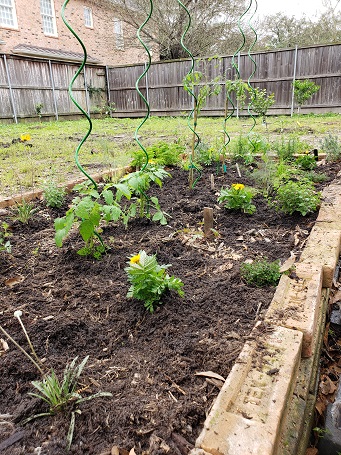 Did you plant these alone or did students or others help you? Do you partner with a student group regularly on gardens or sustainability?
It started as a school project with the students planting the original crops of carrots and lettuces. I wanted to keep the project alive, so I've taken up the mantle.
I've had great support from the community. There's a core group of parents, teachers, and faculty who have been very excited and supportive of this garden. Without some of them, this would not be what it is. They helped get it built and funded and now I'm able to just grow and garden whatever I want! If I need anything, I know I can always reach out to any of them for support.
I'll incorporate the garden into my summer school classes, and I'll help anyone who may want to utilize it in their curriculum. All are welcome! My hope is that I'll have a few students who really do want to get in the garden and plant and see what their work produces. Maybe some of the 8th graders will take on the garden as a capstone project and it will grow even larger.
What do you plan to harvest for meals this year?
Tomatoes for sure. I have seven plants, so those are viable. I already pulled all the lettuces up and used those on Improvisations®. We use the herbs whenever something calls for it.
Maybe we'll have watermelon before school lets out, but chances are I may have some for the beginning of the next school year. I'm waiting really impatiently for my thornless blackberry bushes to arrive, so I can put them in the ground as well!
What's one dish you're looking forward to cooking with this harvest?
I'm most excited about my heirloom seeds. I have one called Brad's Atomic Grape Tomato that produces grape tomatoes that are shades of yellow, purple, green, orange, and red ꟷ all on the same tomato! I'm also really excited about the prospect of getting watermelons. The particular seeds I have are called Georgia Rattlesnake and are supposed to produce amazingly sweet melons that are perfect for my zone. If the cucumbers produce, I'll make pickles out of them.
What's the biggest challenge in campus gardening?
Finding the time in the day to tend to my plants. I'm fortunate that I have a very large space and wonderful support, but if someone could give me a 25th hour in the day, that would be fantastic!
What do you like most about campus gardening?
I find gardening therapeutic. I like to grow plants, veggies, and fruits and watch my work become something tangible. Plus, the pollinator garden is absolutely beautiful. Everyone who knows me, knows I like to make things pretty!
What do you think is the biggest lesson learned in growing your own?
That it's possible to do. With a little space and some support from the right people, it can be done. You don't have to make it such a big deal ꟷ just some pots with a few things, and it will change your kitchen and your food.
Do you have any tips for novice gardeners?
My advice is to start with plants versus seeds. While seeds can yield some incredibly interesting plants, they take a very long time to sprout and a lot of care and attention. You can put plants in the ground right away and get some satisfaction quickly.
Also, learn what zone you're in. It's really important that you're planting what's viable, at the right times. If you plant too late, you may burn the plant or not get a yield in time, and if you plant too early, it could freeze.
One of my favorites: Don't forget to mix in flowers with vegetable and fruit plants to entice pollination!
And finally, relax and have fun. Play around with items you thought you'd never eat – the fact that you're growing it yourself may entice your whole community to try new things!