Greetings! Welcome back to the blog series "On the Road with RDs," where we invite you to follow along with our Dietitians as they visit venues, teach communities, and continue their education in the wide world of nutrition. This post is from Rob Coutu, our Executive Chef. He may not be an RD, but he's an integral part of the nutrition team and is responsible for keeping our recipes and menus in tip-top shape and on trend.
I recently attended the Culinary Summit in California. This small conference of about 150 chefs and culinary experts gives attendees an opportunity to have more in-depth interactions with the speakers and vendors than would be possible at a larger conference.
The summit kicked off with a talk by Rick Bayless, a chef and restaurateur who specializes in traditional Mexican cuisine. Chef Bayless traveled extensively throughout Mexico in order to gain a deep understanding of the cuisine, techniques, and customs of the country. He spoke about the importance of communal dining, transparency in food, and tying in the cultural context of food. Chef Bayless encourages other chefs to find the story behind the food, put their own personality into their recipes, and celebrate the food's seasonality and flavor.
I started the second day of the summit at Driscoll's berry farm, a fourth-generation family-owned business. The ride in was very humbling, to see all the fields at 7 a.m., just past sunrise, full of pickers bent over harvesting the produce by hand. Even with all the advancements in technology and infrastructure, produce is still handpicked, even at a company with international distribution. Driscoll's breeds the berries and grows the plugs. The plants are then sold to independent growers, many of whom are families that have been working with Driscoll's for more than 30 years.
Driscoll's buys berries from farmers at a competitive rate and also maintains the Driscoll Foundation, which distributes money to farmers to help maintain the land, pay the pickers a better wage, and help create better working conditions for those in the fields. We had an opportunity to taste test many varieties of raspberries with the breeder while we were there. There were varieties that weren't yet ready for market, but I'll keep an eye out for when they're available for our recipes.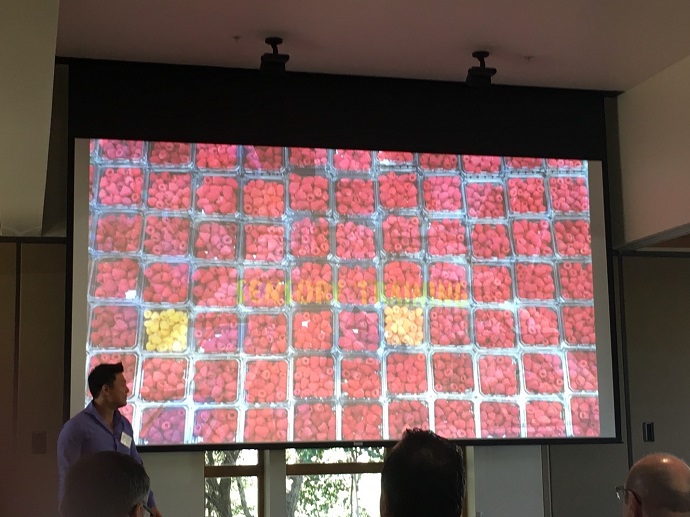 The keynote speaker on day two of the summit was Hugh Acheson, former "Top Chef" judge, winner of "Iron Chef Canada," and restaurateur. Chef Acheson talked about how to elevate produce as a center-of-the-plate entrée that will appeal to everyone. Similar to Chef Bayless, he emphasized the importance of educating the community about the story behind the food and gave some examples of how to provide education that will really reach the eater.
I spent the remainder of my time at the conference talking to potential vendors. I'm always on the lookout for the best products for our venues. I visited a vendor with unique produce options, such as purple Brussels sprouts, and another one with interesting juices that I can use to develop new flavors for our line of sports drinks. Finding baked goods that are produced in nut-free facilities is always a challenge, so I was happy to find a nut-free bakery at this conference.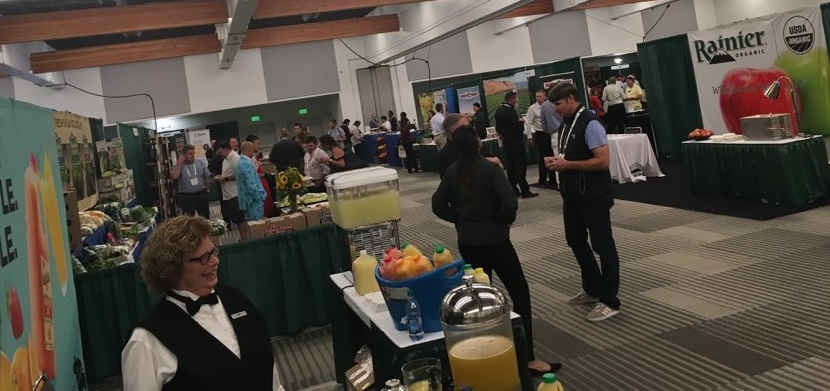 This was a great conference, and I found it really inspiring. Look forward to some of these ideas being incorporated at our venues.
What's next for SAGE's RDs? Stay tuned — we could turn up at a venue near you!