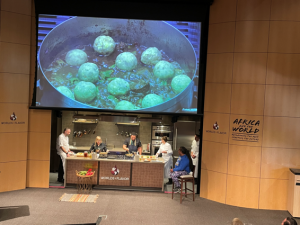 We're back with a new edition of our "On the Road" blog series! We're excited to feature SAGE's Director of Menu Development Rob Coutu, who traveled out to Napa Valley in November 2022 for the Worlds of Flavor® International Conference and Festival, presented by the Culinary Institute of America. The theme of the 2022 conference was Africa and the World. Below, Rob shares his experience at this critically acclaimed annual conference.
The conference explored the foods, culinary techniques, and diverse cultures of Africa. Its main message focused on "reclaiming the past" while "crafting the future." We learned more about the transatlantic slave trade and its impact on global foods. Over three days, more than 40 chefs, culinary anthropologists, and other experts in their fields discussed the rich history of the African diaspora through seminars, demonstrations, and tastings. Chefs and food service operators benefited from learning ways to enhance their menus with African culture and cuisine.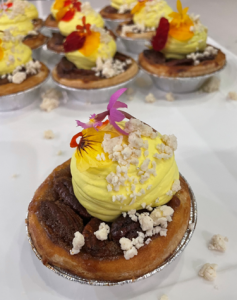 The seminars taught us a lot of interesting history. For starters, many recipes, cooking techniques, and ingredients don't originate from North America but from Africa, as they were brought over during the transatlantic slave trade more than 300 years ago. For example, barbecue as we know it today isn't a North American concept. It's a variation of barbacoa, which comes from Barbados. Additionally, paella was brought to Spain by Moorish slaves, who are originally from North Africa. For African culture, cuisine is largely about respecting and honoring late relatives. By acknowledging them and voicing their names, they live on through food and customs around the table for generations.
One of my favorite parts of the conference was meeting and chatting with all the chefs and presenters. There were so many notable people from the culinary industry there, including James Beard award winners and finalists from "Top Chef." I met Edward Lee from "The Mind of a Chef" series and Matthew Raiford, a sixth-generation Gullah Geechee chef and farmer (or, as he calls himself, a "CheFarmer").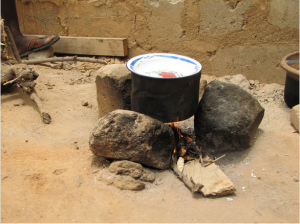 I also enjoyed all the food samplings! African cuisine is very familiar once you learn more about the ingredients and taste the pairings. It's easy to make and doesn't include almost any of the 12 most common allergens. Two big elements to African dishes include starches and sauces, which are served with it or on the side. And some of the primary cooking methods include grilling, boiling, and ash roasting using a three-rock stove.
After learning about all these awesome flavors and dishes, you may see some popping up on your SAGE menus in the future!