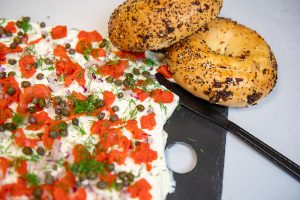 Butter boards, a new spin on charcuterie and cheese boards, are a wildly popular food trend across the world. At its core, this is exactly what it sounds like: It's butter on a board. But there are several techniques that go into creating butter boards and boundless variations on this trend.
Butter boards first went viral on social media when Justine Doiron, a recipe developer in New York who blogs as Justine Snacks, posted a video on TikTok last fall. While her 27-second clip introduced the butter board concept to millions, she credits chef and cookbook author Joshua McFadden with the idea. A butter board appears in his James Beard Award-winning 2017 book "Six Seasons: A New Way with Vegetables," which he wrote with food writer Martha Holmberg.
The basic idea of a butter board is softened butter that's decoratively swirled onto a nonporous (e.g., faux wood, marble, slate, ceramic) board. It's important that the butter is softened naturally, so don't melt it in the microwave or use it straight from the fridge; instead, leave it out for about an hour ahead of plating. Sometimes the butter can be shaped for specific celebrations or themes, such as a wave for a seafood-based board or a pine tree for Christmas.
The butter is then garnished with a variety of toppings and served with sliced bread, crackers, or crunchy vegetables for dipping. Be sure to set out butter knives or spoons alongside, so your guests don't dip directly into the spread.
Perhaps what makes butter boards so exciting are their simplicity and versatility. They're interactive and a fun, easy way to offer variety and entertain guests. They can be used at everything from cocktail receptions and buffets to holiday dinners and family events. The options are endless!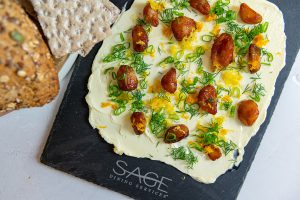 Butter boards can be sweet or savory, and they're equally perfect as an appetizer or a dessert. Savory toppings could include vegetables, seeds, herbs and spices, olives, roasted garlic, cheeses, oils and vinegars, and citrus. For a sweet board, consider using buttercream instead of butter with toppings like fresh or dried fruit, jams, honey, brown sugar, maple syrup, and chocolate.
SAGE Director of Menu Development Rob Coutu has a few things to keep in mind when creating your own butter board:
●Use good-quality, fresh ingredients! Work with what's in season. Offer a variety of textures and complementary pairings.
●There's more to butter boards than butter. Try using whipped feta, sikil pak (Mayan-inspired pumpkin seed dip), goat cheese, a white bean spread, or a zucchini pesto.
●Make butter boards special by offering items that are sweet, salty, savory, spicy, and crunchy. Make sure to have plenty of different types of breads, crackers, and flatbreads to go with the spread.
●Watch out for temperature-sensitive ingredients. Butter boards are best when they're at room temperature, so all the flavors open up. Be sure to avoid raw or undercooked items.
Remember: Butter boards are supposed to be a wow factor, so be creative and have fun with them! Check out the recipe below to try at your next gathering: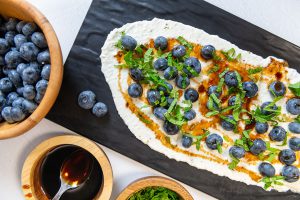 Honey Whipped Ricotta and Blueberry Board
Servings: 8
15 ounces whole milk ricotta cheese
3 tablespoons honey
¼ teaspoon kosher salt
¼ teaspoon cracked black peppercorns
3 ¼ ounces blueberries
1 ½ tablespoons balsamic glaze
Fresh mint to garnish
STEP 1: Pick through and wash the blueberries. Pick and chiffonade the mint by cutting into thin ribbons.
STEP 2: In a food processor, add the ricotta cheese, honey, and salt. Process until smooth.
STEP 3: Garnish with cracked black peppercorns.
STEP 4: Spread the honey whipped ricotta on a board that's not made of wood. Sprinkle the blueberries over the top, drizzle with the balsamic glaze, and garnish with mint.