Even if you don't have food allergies, odds are you will come into contact with someone who does. Knowledge and resources can help you become an ally to the 15 million people living with food allergies in the United States.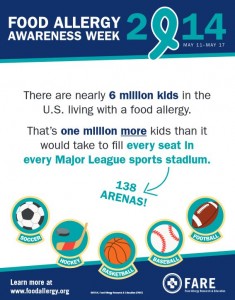 One step you can take to make the world a safer place for those with food allergies is to wash your hands! According to FARE, Food Allergy Research & Education proper hand-washing defends against germs and is also effective at removing food residue or allergens. A 30 second wash with warm soapy water after a meal or snack time is a simple practice that can help protect those with food allergies. Anti-bacterial hand sanitizer is NOT effective at removing food allergen residue.

To hear more first-hand stories of parents and kids with food allergies check out the Discovery Channel documentary An Emerging Epidemic: Food Allergies in America. It's a great inside look at personal experiences and perspectives.