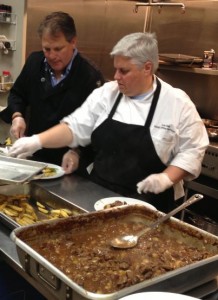 "This is going to be the year I get organized." Each year millions of people make that declaration on New Year's only to have it fall apart shortly thereafter. While we don't have a secret ingredient for getting organized at home, we can help you get organized while cooking.
In order to get food out on time and stay true to our scratch and batch cooking methods, SAGE chefs must run highly efficient kitchens. Two minutes can mean the difference between a dish prepared perfectly and one that is over-cooked.
The New Year doesn't have to be a recipe for disaster if you follow these five steps.



Wear the appropriate clothing: Wearing business attire makes you sharper and more professional at work, the same is true in the kitchen. Pull back your hair, tie on the apron and wear comfortable shoes that cover your toes. You'll thank us, if you ever drop a knife or a pot of boiling water.


Read and then reread the recipe: Familiarize yourself with the recipe including the list of ingredients, tools, and techniques. This will make you more confident and more prepared.


Gather everything you need: The French term mise en place means "setting in place," and it's the process of prepping all of the ingredients and pulling out all of the equipment needed ahead of the cooking time. Using small prep bowls and organizing them according to the order you will use them will make cooking much easier, plus you won't be scrambling to measure or chop something quickly and you'll know that you have all the ingredients.


Keep the area clean: This is probably one of the most important rules of cooking. A dirty kitchen can make you stressed and make you "lose" things more easily. (Develop the habit of returning) Return ingredients after using them, and quickly rinse and store dirty bowls in the sink. Keep a damp sponge or rag handy to clean up spills and designate a bucket for food scraps.


Practice, practice, practice: Don't get discouraged if you aren't as fast as the chefs on TV. It takes years to develop those skills. The more you cook, the more your inner Julia Child or Emeril Lagasse will start to come out.


Cooking shouldn't be scary. It's a time to have fun and experiment with different flavors. Plus, it's a great way to know and control what your family is eating. So, enjoy and go back for seconds. A New Year can mean a new diet.