Breakfast may be the most important meal of the day, but for those of us who can't eat gluten, it can also be a huge hassle.
Conventional breakfast foods like toast, bagels, donuts, pancakes, waffles, cereal, and most oatmeals are all off limits.
Gluten-free baked goods have improved by leaps and bounds over the last decade, spurred on by increasing interest in the diet. Taste-wise, however, they still haven't caught up. These products tend to be dry, chalky, or tasteless. They're also expensive: a loaf of regular bread costs two to three dollars, while a similarly-sized loaf of gluten-free bread will set you back five or six dollars.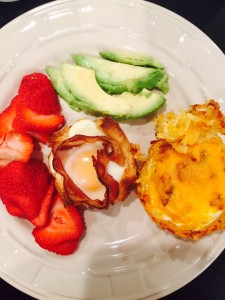 There are always naturally gluten-free options, such as eggs and bacon – but watch out! The bacon can't be cooked in oil that has been used to fry any glutinous or breaded foods. In addition, many processed meat products such as breakfast sausages use wheat flour or other glutinous ingredients as fillers or binders. Carefully double-check every ingredient label for gluten!
So what do you have left? Fruits like bananas or berries, and dairy products like yogurt or cottage cheese.
These days, the gluten-free diet is the new big thing: everyone's talking about it, celebrities are endorsing it, and scientific studies are supporting it. It may seem as though living gluten-free is easier than ever. Sadly, this is not always true. Whether you're celiac, gluten intolerant, or avoiding gluten for health reasons, it can be difficult and frustrating to maintain a complete and healthy gluten-free diet.
For more on celiac disease and Celiac Disease Awareness Month, click here.