Vegetarianism is trending across the United States. Health organizations have consistently encouraged us to eat more fruits and vegetables, and "going veggie" is a natural extension of that trend. It seems easy enough to understand – but did you know there are different types of vegetarians?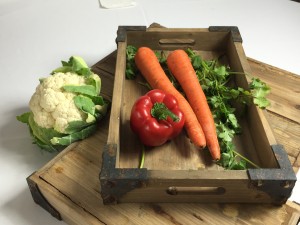 -
Lacto-ovo vegetarian
: the most common type of vegetarian. Lacto-ovo vegetarians don't eat meat or fish, but do eat dairy and eggs.
- Lacto-vegetarian : consumes no meat, fish or eggs, but will drink milk and eat other dairy products such as cheese and yogurt.
- Ovo-vegetarian : consumes no meat, fish or dairy, but will eat eggs and products derived from eggs.
- Vegan : consumes no meat, fish, or other products that come from animal sources such as milk, eggs, and, in some cases, honey.

- Flexitarian : follows a mostly vegetarian diet, but will eat meat or fish on occasion.
People practice vegetarianism for a variety of reasons, including health, environmental and animal concerns. While eating vegetarian can be extremely healthy, it's important to avoid nutrient deficiencies or over consumption of highly processed grains and sugar. Both white bread and soda are technically vegetarian products, but they should not be consumed in large amounts.
For vegetarians and non-vegetarians alike, eating more unprocessed plant foods is a good idea. Fresh fruits and vegetables, whole grains, and legumes are all parts of a well-balanced diet. Eat a wide variety of these foods to increase your intake of vitamins, minerals, fiber, water, antioxidants, and other powerful disease-fighting plant chemicals.
If you're considering a vegetarian diet, here are some great options to get you started: wheat-berry salad, kale chips, lentil soup, and blackberries. If you already eat a variety of plant foods, consider trying some new vegetarian recipes. Ask your SAGE food service director for examples of vegetarian items that have been a hit in our dining halls, or check out the Vegetarian/Vegan tab on the SAGE Pinterest page.