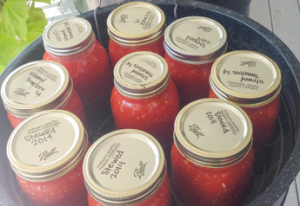 Canning fruits and vegetables has made a big comeback. Sales of home canning equipment have surged since 2008, in large part due to a growing interest in eating more healthfully and reviving traditions from a simpler time.

Late summer is a great time to take advantage of the bounty of your home garden or your local farmer's market and create some treats that will last through the winter.
Canning has become so popular Ball canning jars has partnered with Canning Across America, a nationwide group of food writers, bloggers and cookbook authors to create an International Can It Forward Day. They're teaching people all about canning, from how to can, to safe canning practices, to lots of useful recipes.
One of the most popular methods of canning is pickling - preserving food by placing it or cooking it in a substance that inhibits or kills bacteria and other microorganisms. Another popular method is simple canning. This relies on heat to destroy microorganisms and creates a vacuum as the jar cools and seals, preventing microorganisms from entering and re-contaminating the food.
For more on canning practices check out the "Can Do, Can It" board on the SAGE Pinterest page.